Gilding on a 15th century stone relief from Dubrovnik: technical study vs. Cennini's recipe
Sandra Sustic

Hrvatski restauratorski zavod

Vinka Marinkovic

Croatian Restoration Institute in Split (Stone Department

Jure Balic

Student

Martin zohil

Student

Vinko Bonomi

Student
Palabras clave:
Dorado, alto-relevo en piedra, reconstrucción histórica, capas preparatorias, receta de Cennino Cennini CLXXIV
Resumen
En 2016, el Instituto Croata de la Conservación, ha levado a cabo un exigente trabajo de conservación y pesquisa técnica, de un alto-relevo dorado del siglo XVI, proveniente de Dubrovnik y atribuido a Pietro di Martini da Milano (c. 1410-1473). La intervención, ha probado tratar-se una valiosa oportunidad de mejor entender la degradación de los materiales empleados y de las técnicas empleadas por lo Maestro. La dificultad de identificar la existencia de las camadas de impermeabilización y de preparación, han levado a dúas reconstrucciones experimentales como parte de un proyecto de estudio – una de las reconstrucciones se ha basado en la interpretación de los resultados de pesquisa obtenidos durante la intervención de conservación y restauración, y la secunda en pesquisa histórica y tecnológica, nombradamente la receta de Cennino Cennini, CLXXIV. El objetivo ha sido la evaluación de la influencia de las dos camadas iniciales en el comportamiento del dorado, permitiendo en simultaneo una visión de la experiencia del Maestro, basada en una metodología de "aprender-haciendo". Los resultados experimentales muestran que la causa de los danos y fragilidad del dorado original, podrán ter su origen en la ausencia de las capas de impermeabilización y preparación.
Descargas
La descarga de datos todavía no está disponible.
Citas
ANDREUCCETTI, P. A. (2008). La policromia della scultura lapidea in Toscana tra XIII e XV secolo. Firenze: Edizioni Polistanpa.
CASTELNUOVO-TEDESCO, L. SOULTANIAN J., (with contributions by Richard Y. Tayar) (2010). Italian Medieval Sculpture in The Metropolitan Museum of Art and The Cloisters. New York: Yale University Press, New Haven and London, 226-234.
BORDIGNON F. et al. (2008). "The Formation of Metal Oxalates in the Painted Layers of a Medieval Polychrome on Stone, as Revealed by Micro-Raman Spectroscopy", Studies in Conservation, 53-3: 158-169, DOI: 10.1179/sic.2008.53.3.158
BRECOULAKI, H. (2014). "Precious Colours", Revue Archéologique, 57: 3-35.
BROECKE, L. (2012). "Reconstructing the preparation layers of a late fifteenth – century panel painting from Seville". In Artists' Footsteps: the reconstruction of pigments and paintings, Lucy Wrapson [et al.] (coord.). Archetype Publications, London, 17-29.
BROECKE, L. (2015). Cennino Cennini's Il Libro Dell'arte: A New English Translation and Commentary with Italian Transcription, Archetype Publications Ltd, United Kingdom.
BROECKE, L. (2018). "Truth and intention in the Libro dell'Arte". In: Contribution à une histoire technologique de l'art. Actes de journées d'étude de la composante de recherche Préservation des biens culturels. Claire Betelu et al (coord). Paris, 56-67.
CARLYLE, L. (2012). "Practical considerations for creating historically accurate reconstructions". Fatto d'Archimia. Los Pigmentos Artificiales en las Técnicas Pictóricas. Marián del Egido and Stefanos Kroustallis (coord.). Madrid: Ministerio de Educación, Cultura y Deporte, 105-117.
FISKOVIĆ, I. (2003). "Dodatak dubrovačkom opusu Petra Martinova iz Milana", Peristil 46: 29-48.
MARINKOVIĆ, V., ŠUSTIĆ, S. (2017). Conservation-restoration report on a gilded polychrome stone relief from Dubrovnik, Croatian Conservation Institute, Split.
MATIJEVIĆ, J., HRASTE, K. (2007). Knjiga o umjetnosti, "Il libro dell'arte", Cennino C. Zagreb: Institut za povijest umjetnosti.
MUDRONJA, D. et al (2016-2017). Laboratory analyses report. Zagreb: Croatian Conservation Institute.
SKOVMØLLER A., THERKILDSEN R. H. (2016). "The polychromy of Roman polished marble portraits", ASMOSIA X, Association for the Study of Marble & Other Stones in Antiquity, X. International conference, Vol. 2, Rome, 891-900.
THOMPSON, D. The Craftsman's Handbook, 'Il Libro dell'arte". Cennino d'Andrea Cennini. Dover Publications, Inc., New York, 1960, 118-120.
UZIELLI, L. (1998). "Historical overview of panel-making techniques in Central Italy. The structural conservation of panel paintings". In Proceedings of a symposium at the J. Paul Getty Museum, 24-28 April 1995, K. Dardes and A. Rothe (coord.), The Getty Conservation Institute, Los Angeles, pp. 110-135.
WEEKS, C. (2006). "Polychrome Stone". In Stone Conservation: Principles and Practice, Henry A. (coord.), Donhead, 237-255.
ZOHIL M. et al. (2019). Making a historically informed reconstruction of gilded relief from Dubrovnik. Seminar paper. Arts Academy of the University of Split, Split.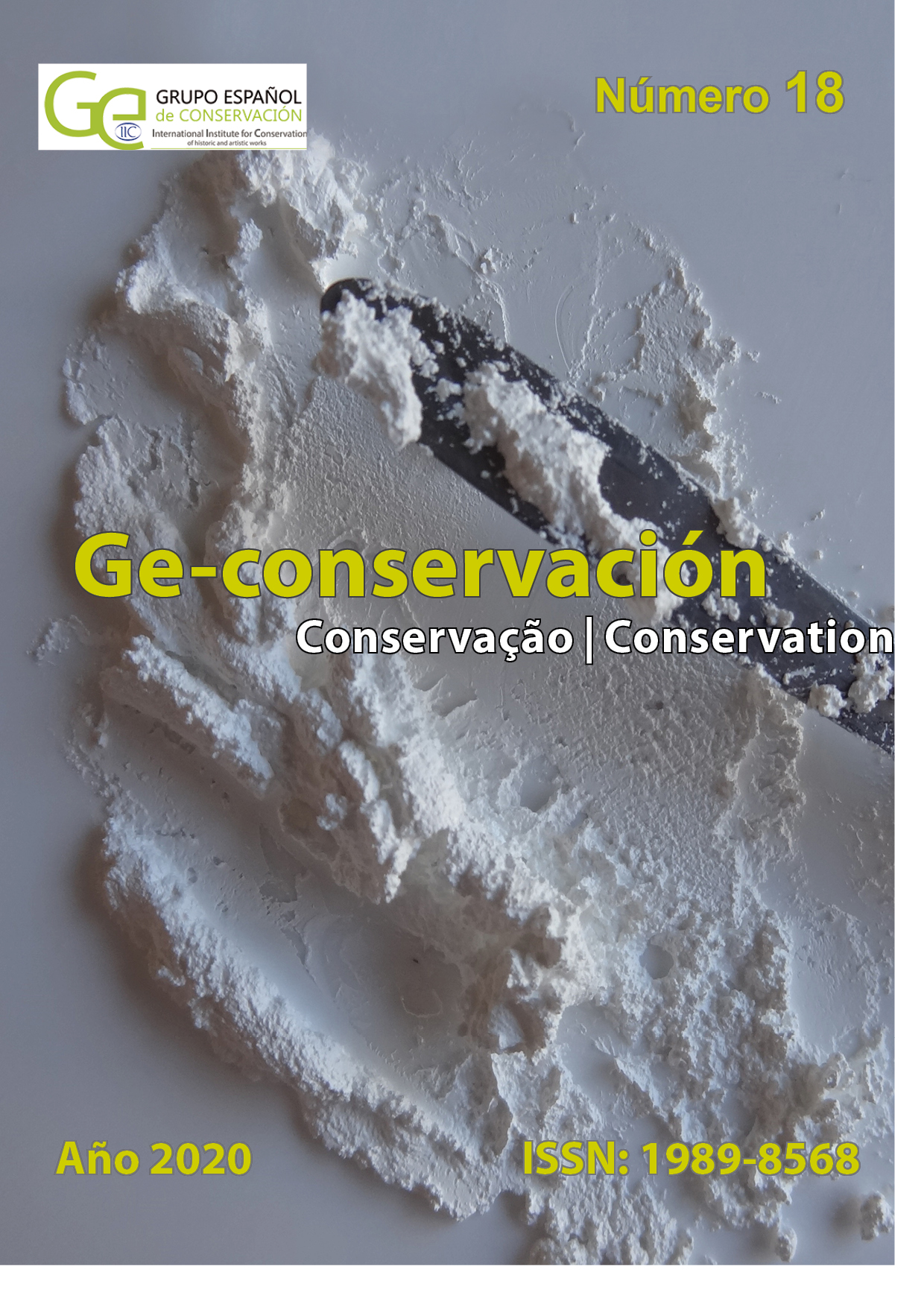 Cómo citar
Sustic, S., Marinkovic, V., Balic, J., zohil, M., & Bonomi, V. (2020). Gilding on a 15th century stone relief from Dubrovnik: technical study vs. Cennini's recipe. Ge-Conservacion, 18, 298-306. https://doi.org/10.37558/gec.v18i1.856
Los autores conservan los derechos de autor y propiedad intelectual, y garantizan a la revista Ge-Conservación y al GEIIC el Copyright© de los derechos de edición y publicación por cualquier medio y soporte. Las obras de dichos autores además se pueden publicar bajo una Creative Commons Attribution License que autoriza ser distribuido gratuitamente, copiado y exhibido por terceros si se muestra en los créditos la autoría y procedencia original en esta revista, y no se puede obtener ningún beneficio comercial por parte de terceros, ni tampoco se pueden realizar obras derivadas.
Los artículos podrán ser utilizados para fines científicos y formativos, pero nunca con fines comerciales, expresamente sancionado por la Ley.
La información contenida en los artículos es responsabilidad exclusiva de los autores.
La revista Ge-Conservación y los autores pueden establecer por separado acuerdos adicionales para la distribución no exclusiva de la versión de la obra publicada en la revista (por ejemplo, situarlo en un repositorio institucional o publicarlo en un libro), con un reconocimiento de su publicación inicial en esta revista.
Se permite y se anima a los autores a difundir sus trabajos electrónicamente (por ejemplo, en repositorios institucionales o en su propio sitio web) después de su publicación en la revista Ge-Conservación, ya que puede dar lugar a intercambios productivos, así como a una citación más temprana y mayor de los trabajos publicados por el autor.
Los datos personales suministrados por los autores únicamente serán utilizados para los fines de la revista y no serán proporcionados a terceros.