Chromatic reintegration in contemporary monochromatic unvarnished paintings: a case study based on artwork from Jorge Martins
Marta Marques Aleixo

Faculdade de Belas-Artes, Universidade de Lisboa, Lisboa.

Ana Bailão

Faculdade de Belas-Artes (CIEBA); Centro de Investigação em Ciência e Tecnologia das Artes (CITAR), Universidade Católica Portuguesa

Andreia Gomes

Centro de Física, Universidade de Minho, Gualtar Campus, Gualtar, Braga, Portugal.

João Linhares

Centro de Física, Universidade de Minho, Gualtar Campus, Gualtar, Braga, Portugal.

Margarita San Andrés

Universidad Complutense de Madrid, Painting and Restoration Department

Sérgio Nascimento

Centro de Física, Universidade de Minho, Gualtar Campus, Gualtar, Braga, Portugal.
Palabras clave:
Reintegración Cromática, Tri-Funori®, Guaches, Monocromo, No-Barnizadas, Acrílicos, Óleos
Resumen
La selección de los materiales de reintegración cromática para las pinturas contemporáneas monocromas no barnizadas al óleo y al emulsión acrílica son un problema antes del tratamiento de conservación y restauración. Este tipo de pinturas tiene abrasiones, especialmente en los lados, huelas digitales y manchas, principalmente causadas durante el manejo. Porque son pinturas sin barnizar, la reintegración cromática se convierte en un proceso más complejo ya que la capa protectora no existe sobre la pintura. El objetivo de este trabajo fue evaluar los materiales que tuvieron un rendimiento superior en la reintegración de las pinturas del pintor portugués Jorge Martins. Las maquetas representativas hechas directamente con el artista y usando sus materiales y técnicas fueron artificialmente envejecidas. Luego se probaron diferentes tipos de materiales, acuosos y no acuosos, para evaluar los mejores. Se descubrió que los mejores resultados se obtuvieron con materiales acuosos y no tóxicos como los pigmentos en polvo de Ferrario® disperso en el medio Tri-Funori® y con las gouaches de Winsor y Newton®.
Descargas
La descarga de datos todavía no está disponible.
Citas
ALDABA, M. A.; LINHARES, J., M. M.; NASCIMENTO, S. M. C.; AMANO, K.; FOSTER, D. H. (2006) "Visual sensitivity to color errors in images of natural scenes". Visual Neuroscience. Cambridge University Press, 23: 557.
ALTHÖFER, H. (2003). Restauración de Pintura Contemporánea. Tendencias, materiales, técnica. Madrid: Akal ISTMO.
ASTM D4303 – 03 (2003). "Standard Test Methods for lightfasteness of ColorAnts Used in Artists' Materials". ASTM International West Conshohocken, PA, p.9.
BAILÃO, ANA; SUSTIC, SANDRA (2012). "Matching colours in pictorial retouching: influence of the three colour dimensions and colour distortion phenomena." ESC – estudos de conservação e restauro, 4.
FELLER, Robert L. (1994). Accelerated Aging. Photochemical and Thermal Aspects. Research in conservation. Los Angeles: The Getty Conservation Institute.
LLAMAS PACHECO, R. (2014). Arte Contemporáneo Y Restauración. O Cómo Investigar Entre Lo Material, Lo Esencial Y Lo Simbólico. Madrid: Tecnos.
MARTINS, J.; ALONSO MOLINA, Ó. (2018). Sombras y Paradojas. El dibujo de Jorge Martins. Badajoz: Documenta.
MAYER, RALPH (1993). Materiales y Técnicas del Arte. Madrid: Tursen Hermann Blume Ediciones, p. 163.
PINTO, P. D., LINHARES, J. M. M. and NASCIMENTO, S. M. C. (2008). "Correlated color temperature preferred by observers for illumination of artistic paintings". Journal of the Optical Society of America, 25: 623.
SCICOLONE, G. C. (2002). Restauración de la Pintura Contemporânea. De las Técnicas de Intervención a las Nuevas Metodologias. Italia: NEREA.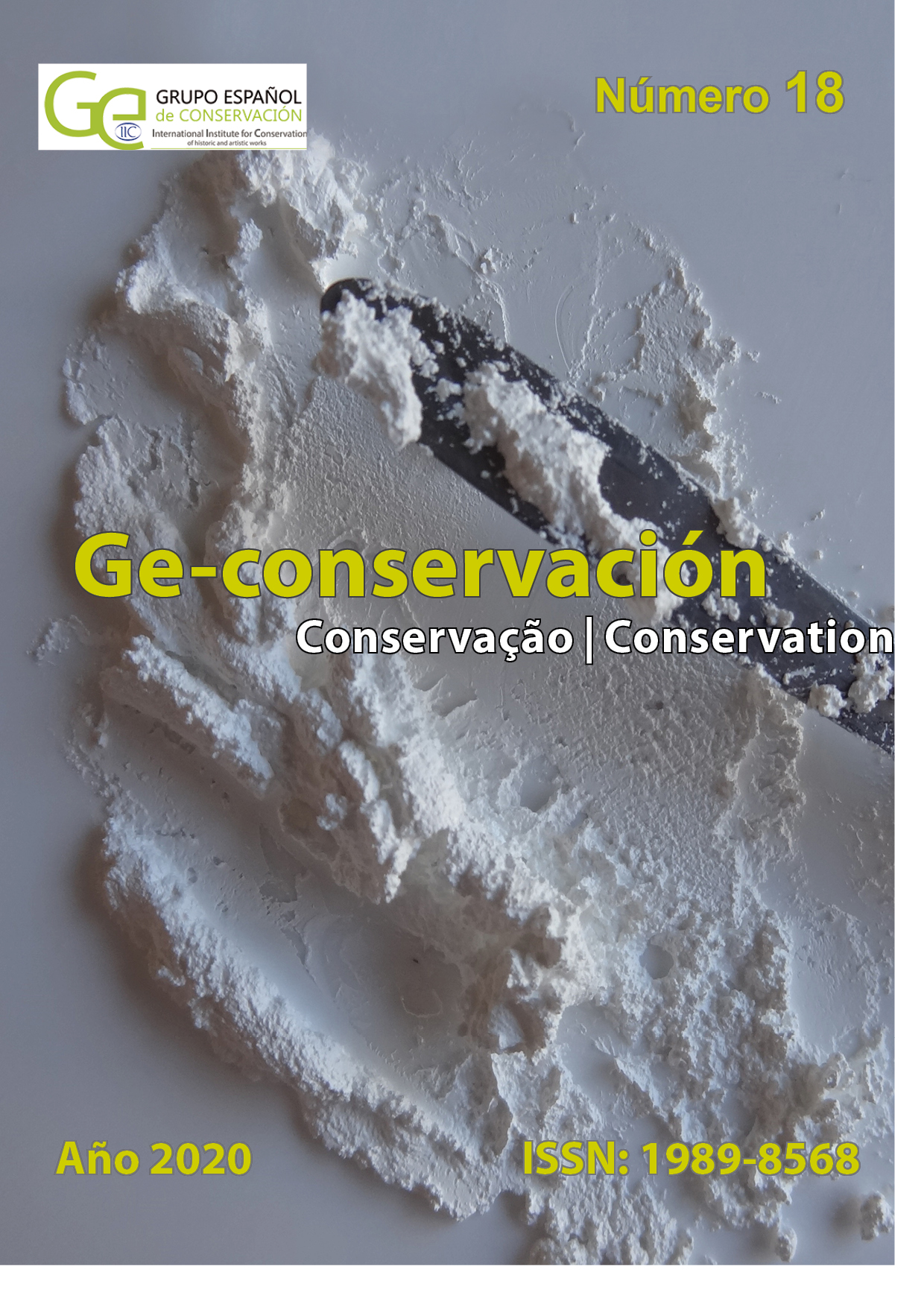 Cómo citar
Marques Aleixo, M., Bailão, A., Gomes, A., Linhares, J., San Andrés, M., & Nascimento, S. (2020). Chromatic reintegration in contemporary monochromatic unvarnished paintings: a case study based on artwork from Jorge Martins. Ge-Conservacion, 18, 328-338. https://doi.org/10.37558/gec.v18i1.817
Los autores conservan los derechos de autor y propiedad intelectual, y garantizan a la revista Ge-Conservación y al GEIIC el Copyright© de los derechos de edición y publicación por cualquier medio y soporte. Las obras de dichos autores además se pueden publicar bajo una Creative Commons Attribution License que autoriza ser distribuido gratuitamente, copiado y exhibido por terceros si se muestra en los créditos la autoría y procedencia original en esta revista, y no se puede obtener ningún beneficio comercial por parte de terceros, ni tampoco se pueden realizar obras derivadas.
Los artículos podrán ser utilizados para fines científicos y formativos, pero nunca con fines comerciales, expresamente sancionado por la Ley.
La información contenida en los artículos es responsabilidad exclusiva de los autores.
La revista Ge-Conservación y los autores pueden establecer por separado acuerdos adicionales para la distribución no exclusiva de la versión de la obra publicada en la revista (por ejemplo, situarlo en un repositorio institucional o publicarlo en un libro), con un reconocimiento de su publicación inicial en esta revista.
Se permite y se anima a los autores a difundir sus trabajos electrónicamente (por ejemplo, en repositorios institucionales o en su propio sitio web) después de su publicación en la revista Ge-Conservación, ya que puede dar lugar a intercambios productivos, así como a una citación más temprana y mayor de los trabajos publicados por el autor.
Los datos personales suministrados por los autores únicamente serán utilizados para los fines de la revista y no serán proporcionados a terceros.