Conservation and virtual reconstruction of the Lucanian Paintings from the National Archaeological Museum of Paestum (ITALY)
Fabiano Ferrucci

Università degli Studi di Urbino Carlo Bo

Maria Rita Ciardi

Professor at the School of Conservation and Restoration, University of Urbino.

Annamaria Amura

University of Urbino Caro Bo.
Palabras clave:
modelo virtual, reintegración cromática, reconstrucción virtual, pintura Lucana, restauración de pintura mural
Resumen
Esta contribución presenta la restauración e integración virtual de una tumba pintada del período Lucano (siglo IV a. C.) en la actualidad desmontada y conservada en los depósitos del Museo Arqueológico Nacional de Paestum. La reintegración virtual realizada se ha basada en los siguientes elementos: la identificación de los vestigios del color original en las superficies, el análisis de pigmentos, el estudio de la técnica ejecutiva, la comparación iconográfica con otras piezas pintadas del mismo corpus, y la reconstrucción por niveles (fondos coloridos, elementos decorativos y figurativos). El video, en el que se ilustra tanto la intervención de restauración real de la tumba como su reconstrucción digital, fue presentada en la conferencia RECH5 y pode ser visto en: https://www.facebook.com/officinabeniculturali.info/videos/200967307895086. En él se muestran las distintas fases de restauración del trabajo, como la limpieza y consolidación, así como la posterior reintegración en modelos virtuales, mostrando cómo la intervención, llevada a cabo de esta forma, respeta los valores de autenticidad de la obra.
Descargas
La descarga de datos todavía no está disponible.
Citas
DOBE® PHOTOSHOP® CC Help (Last updated 2/2/2018), pp. 361-363, 471- 473. Available at: https://helpx.adobe.com/pdf/photoshop_reference.pdf
ALTHOFER, H. (2002). La questione del ritocco nel restauro pittorico. Padova: Il Prato Editore.
AMADORI, M.L., BARCELLI, S., CAMAITE, M., et al. (2005). "Il restauro della tomba n.4 – 1975 della necropoli di Vannullo - Paestum" In Lo stato dell'arte 3, Atti del III Convegno Nazionale IGIIC tenuto a Palermo 22-24 Settembre 2005, Palermo: Steri, 68-75.
AMURA, A. (2014). Rilievo 3D e nuove metodologie per la documentazione: applicazione sui dipinti murali di Ottaviano Nell. Urbino: Biblioteca Isia Urbino. Tesi di Laurea, diploma Accademico di II livello.
AMURA, A. et al. (2020). "Color Segmentation and Neural Networks for Automatic Graphic Relief of the State of Conservation of Artworks." Color Culture and Science Journal 12(2): 07–15. http://jcolore.gruppodelcolore.it/ojs/index.php/CCSJ/article/view/CCSJ.120201
BENNARDI, D., FURFERI, R. (2007). Il restauro virtuale, tra ideologia e metodologia. Firenze: Edifir Editore.
BIAGI MAINO, D., MAINO, G. (2017). Principi e applicazioni del restauro virtuale. Collana: Studi Storia e Teoria del Restauro n.° 29. Firenze: Edifir Edizioni.
BRANDI, C. (1977). Teoria del Restauro. Torino: Einaudi editore.
BRECOULAKI, H. (2001). L'esperienza del colore nella pittura funeraria dell'Italia preromana V-III secolo a.C. Napoli: Electra Editore.
CAPPELLINI, V. (1979). "Il calcolatore e l'arte", Civilità delle macchine, vol. 27: 53-58.
CAPPELLINI, V. (1985). Elaborazione numerica delle immagini. Torino: Editore Boringhieri S.p.A.
DI COSIMO, F., FERRUCCI, F. (1994). "Il restauro di alcune pitture lucane del IV sec. a.C.", Kermes-arte e tecnica del restauro, 21: 3-10.
DI GREGORIO, S., GRANESE, M.T. (2017). "Scene da un addio. La tomba 418 di Spina Gaudo". In Action painting. Rito & arte nelle tombe di Paestum, Local: Arte'm Editore,124-13.
FERRUCCI, F. (2005)., "La tomba del cavaliere di Sarno: dal recupero al restauro", Bollettino I.C.R. Nuova serie, 10-11: 106-116 b.
GONZALEZ, R.C., WOODS, R.E. (2012). Elaborazione delle immagini digitali. (III ed.). Pavia: Pearson Pavia Bruno Mondadori S.p.A.
LIMONCELLI, M. (2011) "Applicazioni Digitali per l'Archeologia: il Restauro Virtuale", DigItalia, Anno VI, Numero 1. ICCU-ROMA.
MCANDREW, A. (2004). "An introduction to digital image processing with MatLab", In Notes for scm2511 image processing, School of Computer Science and Mathematics. Local: Victoria University of Technology, Vol. 264, n.º 1. Available at: http://www.math.hkbu.edu.hk/~zeng/Teaching/math3615/ls.pdf
PONTRANDOLFO, A., ROUVERET, A. (1992). Le tombe dipinte di Paestum. Modena: Panini Editore.
PONTRANDOLFO, A. (2002). "Le tombe dipinte di Paestum", I Quaderni del Museo, 1, Ingegneria per la Cultura.
SACCO, F. (2002). "Sistematica della documentazione e progetto di restauro", Bollettino ICR, Nuova Serie, 4 (1): 28-54.
STANCO, F., RAMPONI, G., RESTREPO, A. (2011). Digital Imaging for Cultural Heritage Preservation: Analysis, Restoration, and Reconstruction of Ancient Artworks. CRC Press.
THE MATHWORKS INC. (2019). Image Processing Toolbox™ User's Guide, R2019b, Natick, MA: The MathWorks Inc.: 13-136.
Vinavil S.p.a: http://www.vinavil.com/it/en/products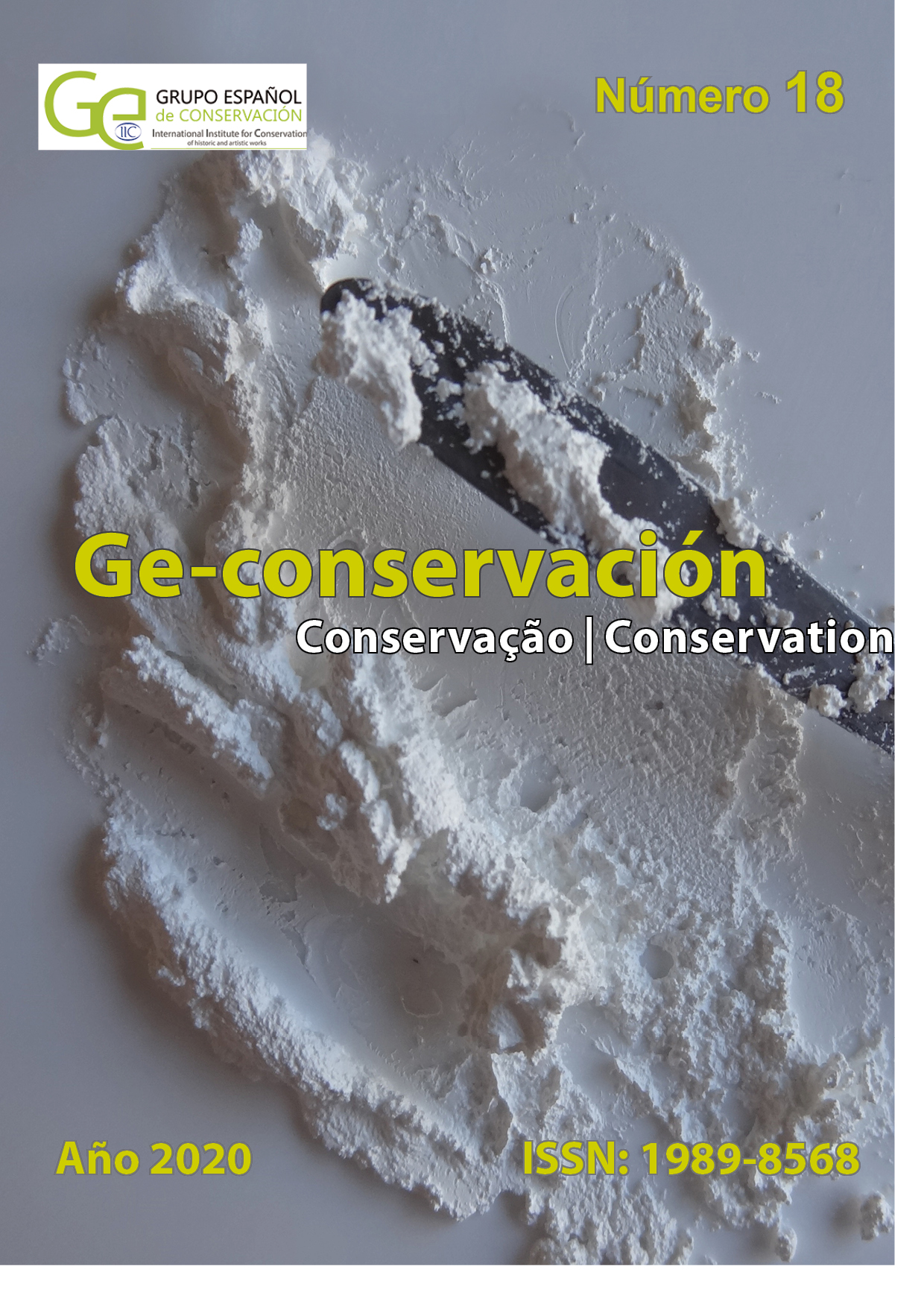 Cómo citar
Ferrucci, F., Ciardi, M. R., & Amura, A. (2020). Conservation and virtual reconstruction of the Lucanian Paintings from the National Archaeological Museum of Paestum (ITALY). Ge-Conservacion, 18, 275-282. https://doi.org/10.37558/gec.v18i1.852
Los autores conservan los derechos de autor y propiedad intelectual, y garantizan a la revista Ge-Conservación y al GEIIC el Copyright© de los derechos de edición y publicación por cualquier medio y soporte. Las obras de dichos autores además se pueden publicar bajo una Creative Commons Attribution License que autoriza ser distribuido gratuitamente, copiado y exhibido por terceros si se muestra en los créditos la autoría y procedencia original en esta revista, y no se puede obtener ningún beneficio comercial por parte de terceros, ni tampoco se pueden realizar obras derivadas.
Los artículos podrán ser utilizados para fines científicos y formativos, pero nunca con fines comerciales, expresamente sancionado por la Ley.
La información contenida en los artículos es responsabilidad exclusiva de los autores.
La revista Ge-Conservación y los autores pueden establecer por separado acuerdos adicionales para la distribución no exclusiva de la versión de la obra publicada en la revista (por ejemplo, situarlo en un repositorio institucional o publicarlo en un libro), con un reconocimiento de su publicación inicial en esta revista.
Se permite y se anima a los autores a difundir sus trabajos electrónicamente (por ejemplo, en repositorios institucionales o en su propio sitio web) después de su publicación en la revista Ge-Conservación, ya que puede dar lugar a intercambios productivos, así como a una citación más temprana y mayor de los trabajos publicados por el autor.
Los datos personales suministrados por los autores únicamente serán utilizados para los fines de la revista y no serán proporcionados a terceros.