Aesthetical presentation of a devotional artwork. Issues and possible virtual solutions
Irene Montagnolo

Restorer; Italy

Marco Bacci

Conservation and Restoration School, Department of Pure and Applied Sciences, University of Urbino

Laura Baratin

Conservation and Restoration School, Department of Pure and Applied Sciences, University of Urbino

Giovanni Checcucci

Conservation and Restoration School, Department of Pure and Applied Sciences, University of Urbino

Maria Rita Ciardi

Conservation and Restoration School, Department of Pure and Applied Sciences, University of Urbino
Palabras clave:
presentaciòn estética, restauraciòn virtual, escultura de madera, arte religiosa
Resumen
En esta contribución, la atencion se concentra en las complejidades y las posibles soluciones que un restaurador debe considerar durante la fase sensible de la presentación estética de las obras de arte devocionales. Para este tipo de artefactos a menudo es posible aplicar la lógica de la restauración conservadora (Zanardi 2009), que requiere una intervención mínima, porque el aspecto devocional es un valor agregado que se debe proteger, ya que lleva una serie de códigos simbólicos (Argenton 2017) que deben ser inmediatamente entendidos por la comunidad religiosa a la que están destinados. La categoría también se analizó a través de una serie de entrevistas con varias figuras que interactúan con una obra de arte devocional y litúrgica: el restaurador, el historiador del arte y el usuario de la obra, la comunidad religiosa.
Descargas
La descarga de datos todavía no está disponible.
Citas
ARGENTON, A. (2017). Arte e Cognizione. Introduzione alla psicologia dell'arte. https://www.docsity.com/it/libro-arte-e-cognizione-autore-argenton-a/4650674/. [Consult. 01/09/2019]
BARACCHINI, C. (1995). A cura di, Scultura lignea. Lucca 1200-1425. SPES, Firenze,
BENNARDI, D., FURFERI, R. (2007). Il Restauro Virtuale. Tra ideologia e Metodologia. EDIFIR, Florence, 14-15.
BIAGI MAINO, D., MAINO, G. (2017). Principi e applicazioni del restauro virtuale. EDIFIR, Florence.
BRANDI, C. (2010). Teoria del Restauro. Einaudi, Torino.
FORNI, V. (1998). ''Il problema critico delle integrazioni plastiche nella scultura lignea policroma'', OPD Restauro, 10: 95-111.
MONTAGNOLO, I. (2018). Restauro e Arte Sacra. La presentazione estetica di un'opera devozionale: problematiche aperte e possibili soluzioni virtuali. Master Thesis. Università degli studi di Urbino Carlo Bo.
PERUSINI, G. (1989). Il restauro dei dipinti e delle sculture lignee, Del Bianco Editore, Udine.
TONINI, F. (2015). La scultura lignea tecniche e restauro. Manuale per allievi restauratori, Il Prato, Padova, 16-17.
ZANARDI, B. (2009). Il restauro. Giovanni Urbani e Cesare Brandi, due teorie a confronto, SKIRA, Milano.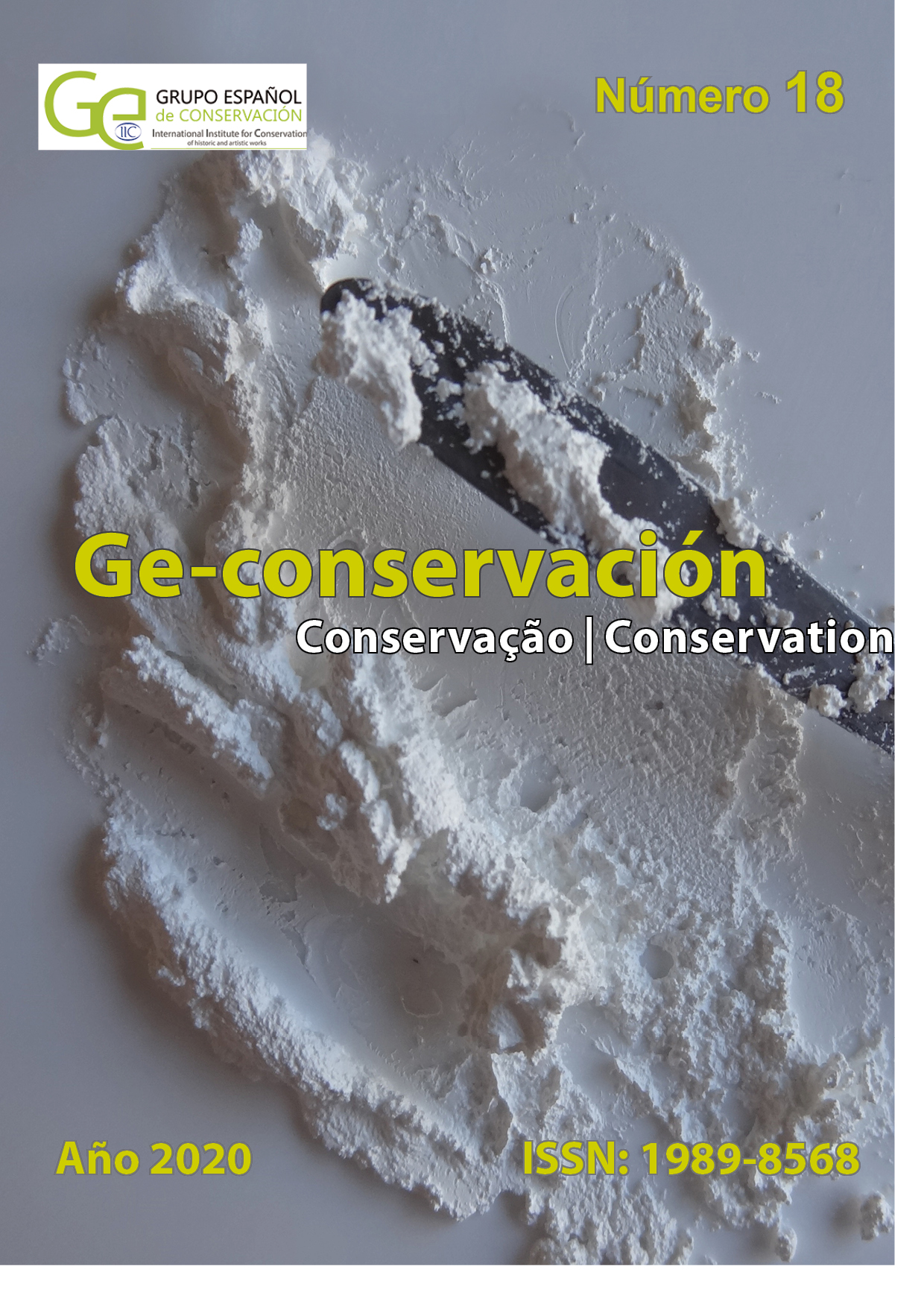 Cómo citar
Montagnolo , I., Bacci, M., Baratin, L., Checcucci, G., & Ciardi, M. R. (2020). Aesthetical presentation of a devotional artwork. Issues and possible virtual solutions. Ge-Conservacion, 18, 307-312. https://doi.org/10.37558/gec.v18i1.850
Los autores conservan los derechos de autor y propiedad intelectual, y garantizan a la revista Ge-Conservación y al GEIIC el Copyright© de los derechos de edición y publicación por cualquier medio y soporte. Las obras de dichos autores además se pueden publicar bajo una Creative Commons Attribution License que autoriza ser distribuido gratuitamente, copiado y exhibido por terceros si se muestra en los créditos la autoría y procedencia original en esta revista, y no se puede obtener ningún beneficio comercial por parte de terceros, ni tampoco se pueden realizar obras derivadas.
Los artículos podrán ser utilizados para fines científicos y formativos, pero nunca con fines comerciales, expresamente sancionado por la Ley.
La información contenida en los artículos es responsabilidad exclusiva de los autores.
La revista Ge-Conservación y los autores pueden establecer por separado acuerdos adicionales para la distribución no exclusiva de la versión de la obra publicada en la revista (por ejemplo, situarlo en un repositorio institucional o publicarlo en un libro), con un reconocimiento de su publicación inicial en esta revista.
Se permite y se anima a los autores a difundir sus trabajos electrónicamente (por ejemplo, en repositorios institucionales o en su propio sitio web) después de su publicación en la revista Ge-Conservación, ya que puede dar lugar a intercambios productivos, así como a una citación más temprana y mayor de los trabajos publicados por el autor.
Los datos personales suministrados por los autores únicamente serán utilizados para los fines de la revista y no serán proporcionados a terceros.