Retouching matt contemporary paint layers: a new approach using natural polymers
Paola Carnazza

Ministry of Cultural Heritage at the National Gallery of Modern and Contemporary Art in Rome

Serena Francone

Italian Ministry of Cultural Heritage

Philip Morelli

Professional for conservation

Rita Reale

Conservation scientist at the Scuola del Beato Angelico in Milan

Maria Pia Sammartino

Researcher at the Department of Chemistry of "La Sapienza" University of Rome
Palabras clave:
reintegración en pinturas mate contemporáneas, medidas colorimétricas, negro de carbón, laminado plástico, aglutinantes naturales, pegamento de esturión, funori, sílice
Resumen
Las diferentes técnicas de pintura, materiales y métodos de aplicación que caracterizan las obras de arte contemporáneas, con predominio de superficies mate y tonos uniformes, hacen de la reintegración cromática uno de los tratamientos de conservación más complicados, ya que la similitud es el objetivo principal. La intervención de reintegración realizada en Galleria Nazionale d'Arte Moderna e Contemporanea en Roma, en Tempi prospettici (1969), una instalación del artista italiano Carlo Alfano, dio la oportunidad de investigar un método para obtener diferentes valores mate / brillante a través de uso de polímeros naturales como aglutinantes. Los aglutinantes elegidos (diferentes polisacáridos, derivados de celulosa y pegamento de esturión) se analizaron, individualmente y mezclados, utilizando medidas colorimétricas y glosimétricas. La relación pigmento-aglutinante y la adición de sílice también se evaluaron para obtener la modulación de la apariencia mate de las formulaciones de pintura. La comparación de los valores colorimétricos de las muestras de pintura y los de la pintura original condujo a la identificación de la mejor solución para la reintegración de la obra de arte.
Descargas
La descarga de datos todavía no está disponible.
Citas
CARNAZZA, P., FRANCONE, S. et al. (2019). "The consolidation of black matt synthetic and semi-synthetic paints in contemporary art. Experimentations, diagnostic analyses and observations." In Proceedings of the VIII International Congress Colore&Conservazione, Cesmar7, Venice (Italy) 25-26 Oct. 2018.
HACH (2016). "Measuring the specular reflection on surfaces (gloss measurement)" Application Report No. 74, https://uk.hach.com/asset-get.download.jsa?id=51277653607, [accessed 15/10/2019].
LALLI, C.G., KRON MORELLI, P. et al. (2016). Funori, natural adhesive for mural aintings and paper materials (in Italian), San Salvo: Linea Grafica editrice.
TATE-HARTE, A. et al. (2010). "Funori: a new medium for consolidation and retouching.", The picture restorer, 36: 13-14.
TUCKER C.W. (1936). Aqueous dispersion of carbon black. United States Patent 2046758.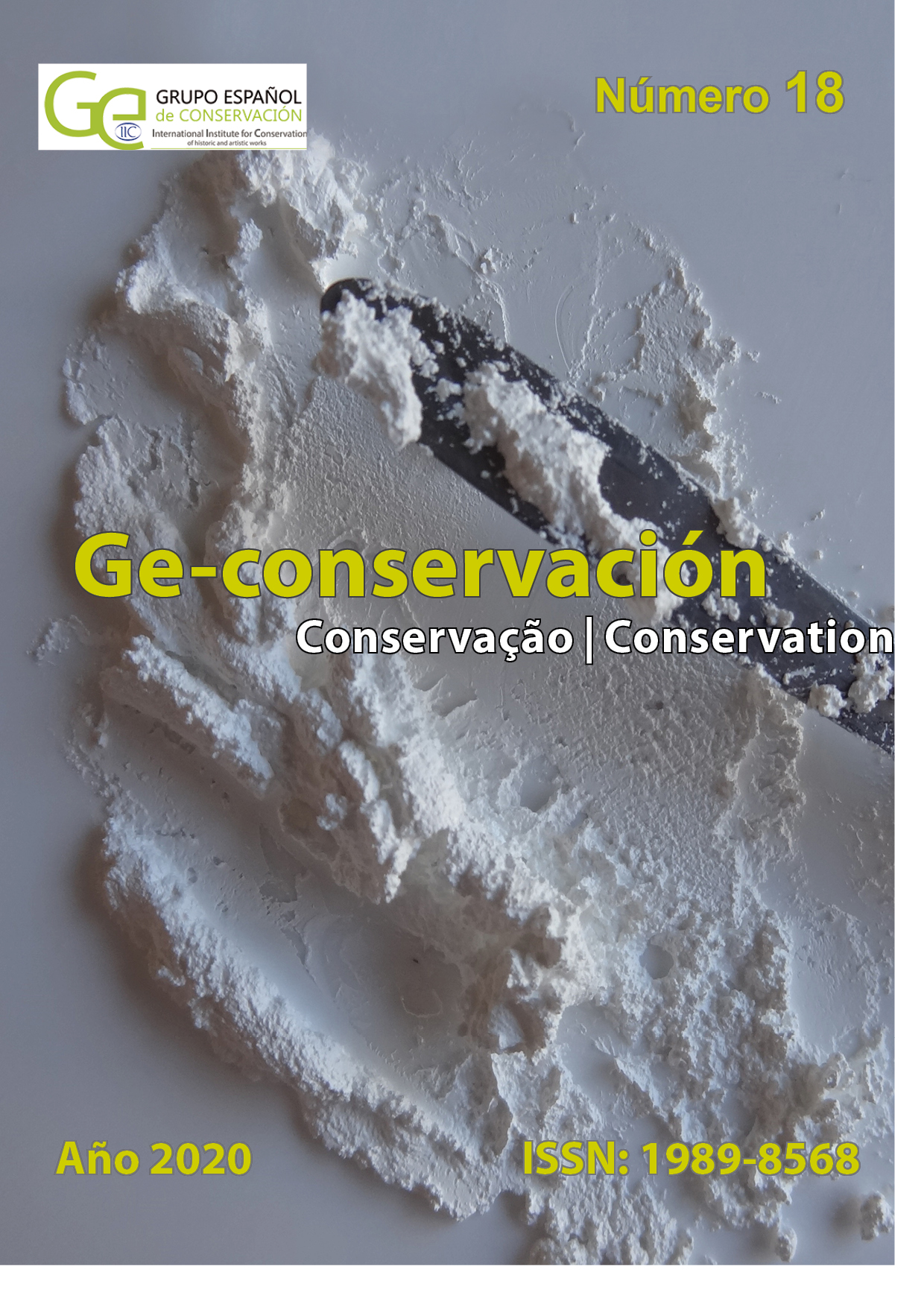 Cómo citar
Carnazza, P., Francone, S., Morelli, P., Reale, R., & Sammartino, M. P. (2020). Retouching matt contemporary paint layers: a new approach using natural polymers. Ge-Conservacion, 18, 384-393. https://doi.org/10.37558/gec.v18i1.842
Los autores conservan los derechos de autor y propiedad intelectual, y garantizan a la revista Ge-Conservación y al GEIIC el Copyright© de los derechos de edición y publicación por cualquier medio y soporte. Las obras de dichos autores además se pueden publicar bajo una Creative Commons Attribution License que autoriza ser distribuido gratuitamente, copiado y exhibido por terceros si se muestra en los créditos la autoría y procedencia original en esta revista, y no se puede obtener ningún beneficio comercial por parte de terceros, ni tampoco se pueden realizar obras derivadas.
Los artículos podrán ser utilizados para fines científicos y formativos, pero nunca con fines comerciales, expresamente sancionado por la Ley.
La información contenida en los artículos es responsabilidad exclusiva de los autores.
La revista Ge-Conservación y los autores pueden establecer por separado acuerdos adicionales para la distribución no exclusiva de la versión de la obra publicada en la revista (por ejemplo, situarlo en un repositorio institucional o publicarlo en un libro), con un reconocimiento de su publicación inicial en esta revista.
Se permite y se anima a los autores a difundir sus trabajos electrónicamente (por ejemplo, en repositorios institucionales o en su propio sitio web) después de su publicación en la revista Ge-Conservación, ya que puede dar lugar a intercambios productivos, así como a una citación más temprana y mayor de los trabajos publicados por el autor.
Los datos personales suministrados por los autores únicamente serán utilizados para los fines de la revista y no serán proporcionados a terceros.