The case of Capogrossi in Rome: criteria and limits in the retouching process of a contemporary mural painting
Paola Mezzadri

ICR - Istituto Centrale per il Restauro

Giancarlo Sidoti

Istituto Centrale per il Restauro, Rome, Italy
Palabras clave:
Capogrossi, pintura mural contemporánea, técnicas de reintegración cromática, polímeros sintéticos, polímeros naturales, metodología piloto
Resumen
Este artículo se centra en los tratamientos de reintegración estudiados para una pintura mural contemporánea, que fue diseñada y realizada por el artista italiano Giuseppe Capogrossi en 1954. Esta obra maestra olvidada se encuentra en los techos de la escalera doble principal en la entrada del Airone, un ex teatro de cine en Roma, que fue diseñado y planeado durante los años cincuenta por los famosos arquitectos Adalberto Libera, Eugenio Montuori y el ingeniero Leo Calini. Después de una breve introducción basada en el historial de conservación del edificio y en la pintura misma, se describirán los criterios y límites en el proceso de reintegración de un área de muestra de este mural basado en acetato de polivinilo altamente degradado (PVAc). Los materiales seleccionados en el proyecto de reintegración, basados en polímeros naturales y polímeros sintéticos, se compararán teóricamente entre sí y se explicará por qué algunos de estos podrían ser apropiados y efectivos, mientras que otros no podrían funcionar cromáticamente en este caso particular.
Descargas
La descarga de datos todavía no está disponible.
Citas
ABRUSCI C., MARTÍN GONZÁLES, et al. (2004). "Biodegradation of type - B gelatine by bacteria isolated from cinematographic films. A viscometric study". In Polymer Degradation and Stability 86, 283–291.
ALOI, R. (1958). Architetture per lo Spettacolo, Milan: Hoepli.
AZOLINI F., RIMINESI C., PENONI S. (2019). "Difetti di adesione della pellicola pittorica nei dipinti murali a secco: problematiche d' intervento, analisi di materiali e sperimentazione su due casi studioin". In XVII Congresso Nazionale IGIIC - Lo Stato dell'arte 17 - Chiesa di Cristo Flagellato dell'Ex Ospedale San Rocco, Matera, 545 - 551.
BESTETTI R., SACCANI I. (2014). "Materials and methods for the self-production of retouching colours, Laropal A81, Paraloid B72, Gum Arabic and Aquazol based colours". In RECH2 International Meeting on Retouching of Cultural Heritage, Porto.
BRANDI C. (1963). Teoria del Restauro. Rome: Edizioni di Storia e letteratura.
COLOMBO A., GHERARDI F., GOIDANICH S., DELANEY J. K., DE LA RIE E. R., UBALDI M. C., TONIOLOC L. and SIMONUTTIA R. (2015). "Highly transparent poly(2-ethyl-2-oxazoline)-TiO2 nanocomposite coatings for the conservation of matte painted artworks". Journal of The Royal Society of Chemistry, 103 (5): 84879–84888, https://doi.org/10.1039/C5RA10895K.
CROSS M., TATE-HARTE A., THUER C.-H. (2010). "Materials Focus: Funori, A new medium for consolidation and retouching". In The Picture Restorer, 36: 13 -14.
DE CESARE G., GURGONE N., PUTATURO G., MILIANI C., ROSI F., Murals And Architecture: The Case Of Capogrossi in Rome , in "Conservation Issues in Modern and Contemporary Murals"- (Proceedings from Valencia 2012) - Cambridge Scholars publishing 2015 edited by SÁNCHEZ PONS M., SHANK W., FUSTER LOPEZ L., pp. 133 -142.
DE LA RIE E.R., QUILLEN L. S., PALMER M., MAINES C.A. (2002). "An investigation of the photochemical stability of films of the urea-aldehyde resins Laropal A81 and Laropal A 101". In ICOM 13th Triennial Meeting of the ICOM Committee for Conservation, Vol. II, Rio de Janeiro.
DI OTTAVIO S., PERSIA F., GATTIA D. M., LAVORINI B., COLADONATO M., CASSESE G., CARNAZZA P. (2019). "Sostenibilità e Restauro: analisi sperimentali sulla mucilagine di Opuntia Ficus-Indica per il consolidamento dei dipinti". In XVII Congresso Nazionale IGIIC - Lo Stato dell'arte 17 - Chiesa di Cristo Flagellato dell'Ex Ospedale San Rocco, Matera, 225 -232.
HUMMERT E., HENNIGES U., POTTHAST A. (2013). "Stabilisation Treatments with aerosols: evaluating the penetration behaviour of gelatine and methylcellulose". Restaurator, 34(2):134-171. https://www.researchgate.net/publication/287165999_Stabilisation_Treatments_with_Aerosols_Evaluating_the_Penetration_Behaviour_of_Gelatine_and_Methylcellulose (acessed in july 2020).
LEONARD M., WHITTEN J., GAMBLIN R., DE LA RIE E.R. (2000). "Development of a new material for retouching, Tradition and Innovation: Advances in Conservation". Studies in Conservation, 45, supl. 1, 111-113, https://doi.org/10.1179/sic.2000.45.Supplement-1.111
MEZZADRI P., Il dipinto murale di Giuseppe Capogrossi all'ex cinema Airone: problematiche di consolidamento di un'opera in "plastica murale", in CESMAR7 - Supporto e (') Immagine - VIII Congresso Internazionale Colore e Conservazione, Università Ca' Foscari Auditorium Mainardi, Venezia 23-24 Novembre 2018, Il prato editore.
MEZZADRI P. et al., The case of Capogrossi in Rome: trials and tests using gels for the cleaning of a contemporary wall painting, pp. 337-342 , in Gels in the Conservation of Art - IAP, International Academic Projects - Tate Modern, London, october 16-18 2017, Archetype Publications Ltd, 2017.
MEZZADRI P. et al., "The Case Of Capogrossi In Rome: Collecting Data With Different Technologies On a Contemporary Mural Painting" pp. 211 - 218, in GeoRes- Geomatics and Restoration: conservation of Cultural heritage in the Digital Era, 2017, Florence, ISPRS - The International Archives of the Photogrammetry, Remote Sensing and Spatial Information Sciences Publications and CIPA Heritage Documentation.
MEZZADRI P. et al., "Il dipinto murale di Giuseppe Capogrossi nell'ex cinema Airone: pronto intervento", pp. 265 - 277, in IGIIC - Gruppo Italiano dell'International Institute for Conservation (IIC) - Lo Stato dell'Arte 14, Accademia di Belle Arti de L'Aquila, 20-22 ottobre 2016, Nardini Editore.
UBALDI V., DE LUCA D., FRANCHI R., WOLBERS R., BESTETTI R., LOTTICI P. P., MODUGNO F., G. E. (2018). "The use of Aquazol® 500 as a binder for retouching colours: analytical investigations and experiments". In RECH4 Postprints, 4th International Meeting on Retouching of Cultural Heritage, Croatia, 66-79, https://www.academia.edu/36943890/the_use_of_aquazol_500_as_a_binder_for_retouching_colours_analytical_investigations_and_experiments (acessed in july 2020).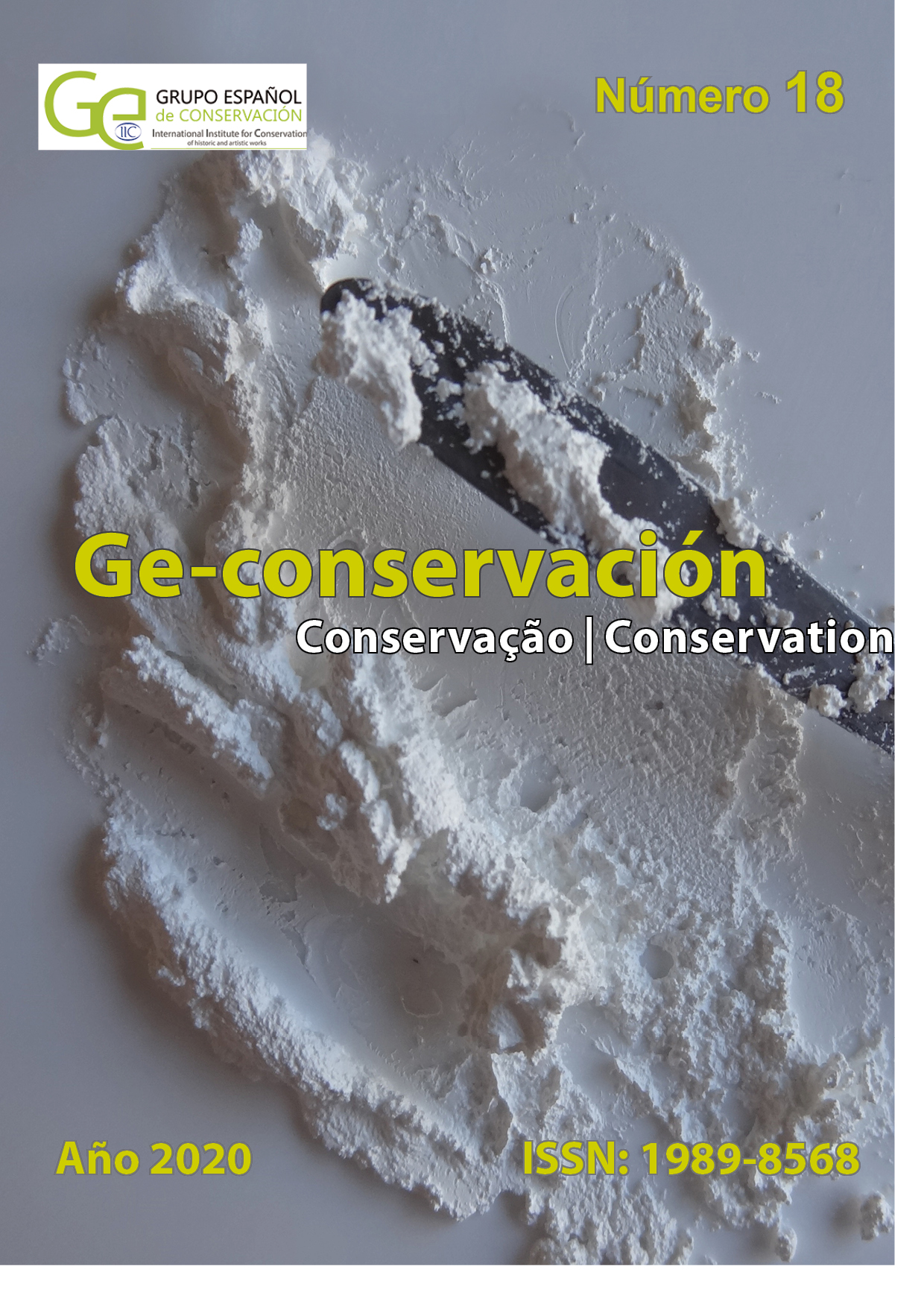 Cómo citar
Mezzadri, P., & Sidoti, G. (2020). The case of Capogrossi in Rome: criteria and limits in the retouching process of a contemporary mural painting. Ge-Conservacion, 18, 183-189. https://doi.org/10.37558/gec.v18i1.829
Los autores conservan los derechos de autor y propiedad intelectual, y garantizan a la revista Ge-Conservación y al GEIIC el Copyright© de los derechos de edición y publicación por cualquier medio y soporte. Las obras de dichos autores además se pueden publicar bajo una Creative Commons Attribution License que autoriza ser distribuido gratuitamente, copiado y exhibido por terceros si se muestra en los créditos la autoría y procedencia original en esta revista, y no se puede obtener ningún beneficio comercial por parte de terceros, ni tampoco se pueden realizar obras derivadas.
Los artículos podrán ser utilizados para fines científicos y formativos, pero nunca con fines comerciales, expresamente sancionado por la Ley.
La información contenida en los artículos es responsabilidad exclusiva de los autores.
La revista Ge-Conservación y los autores pueden establecer por separado acuerdos adicionales para la distribución no exclusiva de la versión de la obra publicada en la revista (por ejemplo, situarlo en un repositorio institucional o publicarlo en un libro), con un reconocimiento de su publicación inicial en esta revista.
Se permite y se anima a los autores a difundir sus trabajos electrónicamente (por ejemplo, en repositorios institucionales o en su propio sitio web) después de su publicación en la revista Ge-Conservación, ya que puede dar lugar a intercambios productivos, así como a una citación más temprana y mayor de los trabajos publicados por el autor.
Los datos personales suministrados por los autores únicamente serán utilizados para los fines de la revista y no serán proporcionados a terceros.