"Grisaille reconstitution" as a colourless visible retouching method: the case of Les Puys d'Amiens, a set of paintings dating from the 16th century
Séverine Françoise

freelance conservator

Laurence Mugniot

freelance conservator

Frédéric Pellas

Freelance restorer of paintings
Palabras clave:
grisaille, reconstrucción, reintegración discernible
Resumen
Un método innovador de reintegración discernible se probó con éxito en un conjunto de siete pinturas, los Puys d'Amiens. Tres de las siete pinturas tenían grandes lagunas. El desafío fue encontrar una solución de reintegración que nos permitiera presentar las siete pinturas juntas, mejorar la comprensión de las pinturas dañadas y, al mismo tiempo, mantener la discernibilidad de la reintegración. Después de varias simulaciones digitales, las más prometedoras se probaron en las lagunas de Puy 1518. En base a los archivos, la solución acordada se denominó "reconstitución grisaille" y consiste en reconstruir figuras, contornos y valores de la pintura original, omitiendo de propósito la restitución de Colores. Este método se llevó a cabo en las tres pinturas dañadas.
Descargas
La descarga de datos todavía no está disponible.
Citas
DURAND, G. (2019). Monographie de l'église Notre-Dame, cathédrale d'Amiens. Edition Atlas, 1901- 1903. http://gallica.bnf.fr/ark:/12148/bpt6k63272737. (acessed December 15, 2019).
GIUSIANO M (2014). La restauration des tableaux de la confrérie du Puy Notre-Dame, mémoire d'étude de 1ère année 2ème cycle de l'Ecole du Louvre, non published.
NICOLO SALMAZO (de), A.; SPIAZZI, A. M.; TONIOLO, D. (2006). Andrea Mantegna e I Maestri della cappella Ovetari, Milano, Skira.
PICHORE J. (1517). Chants royaux en l'honneur de la Vierge au Puy d'Amiens.1517. Illumination by Jean Pichore, from a manuscript commissioned by Louise de Savoie, duchesse d'Angoulême, régente de France. Bibliothèque nationale de France. Département des Manuscrits. Français 145. https://gallica.bnf.fr/ark:/12148/btv1b8426257z/f80.image. [acessed December 15, 2019).
RODRIGUES FERREIRA, C.; PEREIRA, F. A. B.; CANDEIAS, A.; LORENA, M. (2017). « Fernando Mardel, a Portuguese painter-restorer. Retrospective of his retouching work". In RECH4 Postprints. Official website of IV International Meeting on Retouching of Cultural Heritage. http://rechgroup.pt/postprints.html (acessed December 16, 2019).
SCAILLIEREZ C., (dir) (2017). François 1er et l'art des Pays-Bas. Exhibition catalog: Paris, musée du Louvre, 15 octobre 2017-15 janvier 2018. Paris: Somogy 2017.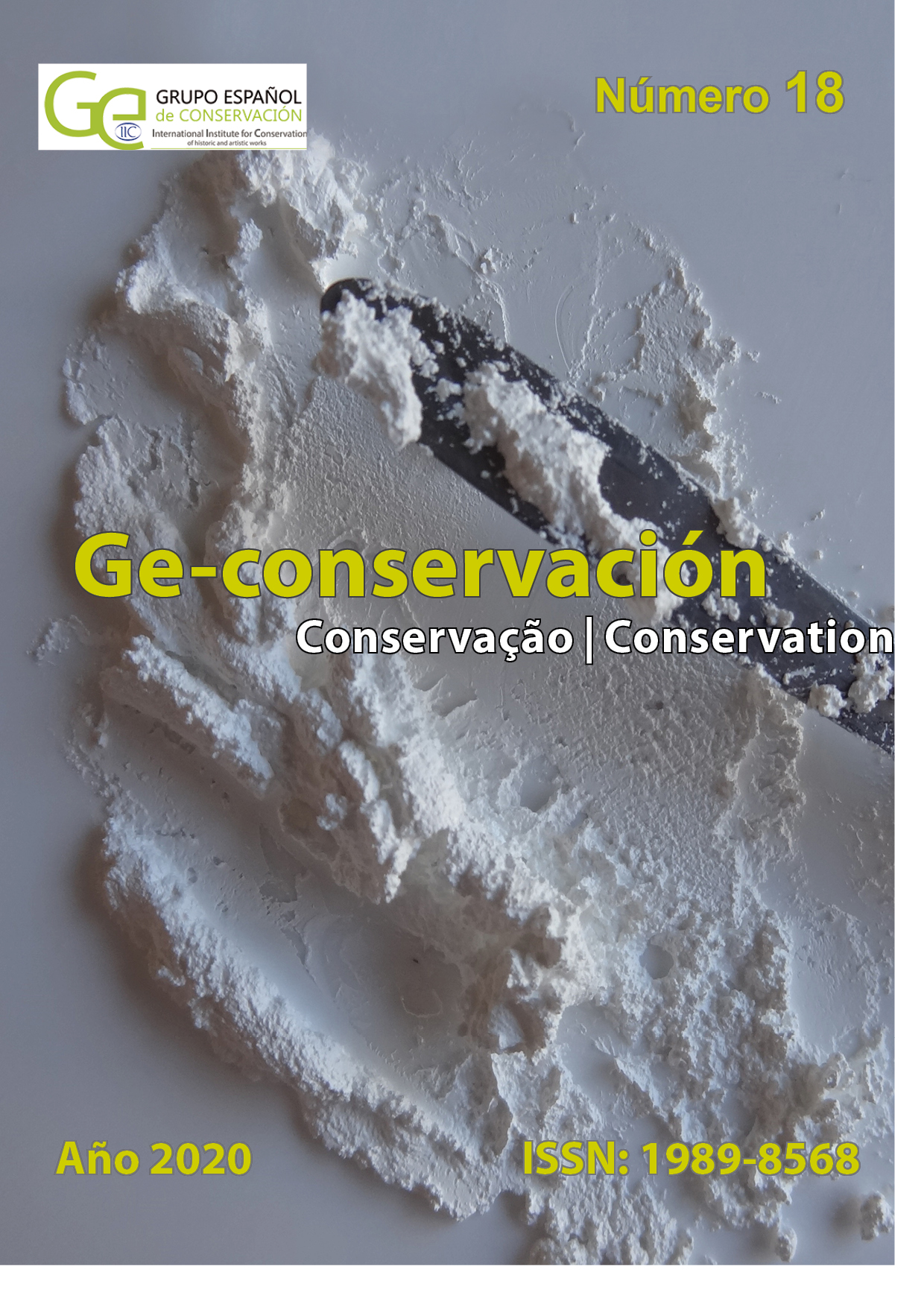 Cómo citar
Françoise, S., Mugniot, L., & Pellas, F. (2020). "Grisaille reconstitution" as a colourless visible retouching method: the case of Les Puys d'Amiens, a set of paintings dating from the 16th century. Ge-Conservacion, 18, 207-215. https://doi.org/10.37558/gec.v18i1.826
Los autores conservan los derechos de autor y propiedad intelectual, y garantizan a la revista Ge-Conservación y al GEIIC el Copyright© de los derechos de edición y publicación por cualquier medio y soporte. Las obras de dichos autores además se pueden publicar bajo una Creative Commons Attribution License que autoriza ser distribuido gratuitamente, copiado y exhibido por terceros si se muestra en los créditos la autoría y procedencia original en esta revista, y no se puede obtener ningún beneficio comercial por parte de terceros, ni tampoco se pueden realizar obras derivadas.
Los artículos podrán ser utilizados para fines científicos y formativos, pero nunca con fines comerciales, expresamente sancionado por la Ley.
La información contenida en los artículos es responsabilidad exclusiva de los autores.
La revista Ge-Conservación y los autores pueden establecer por separado acuerdos adicionales para la distribución no exclusiva de la versión de la obra publicada en la revista (por ejemplo, situarlo en un repositorio institucional o publicarlo en un libro), con un reconocimiento de su publicación inicial en esta revista.
Se permite y se anima a los autores a difundir sus trabajos electrónicamente (por ejemplo, en repositorios institucionales o en su propio sitio web) después de su publicación en la revista Ge-Conservación, ya que puede dar lugar a intercambios productivos, así como a una citación más temprana y mayor de los trabajos publicados por el autor.
Los datos personales suministrados por los autores únicamente serán utilizados para los fines de la revista y no serán proporcionados a terceros.