Image analysis applied to the planning of a canvas painting restoration intervention
Annamaria Amura

Department of Pure and Applied Sciences University of Urbino Caro Bo.

Landi Luisa

School of Conservation and Restoration, Department of Basic Sciences and Applications, University of Urbino Carlo Bo, Italy

Luigi Pisani

School of Conservation and Restoration, Department of Basic Sciences and Applications, University of Urbino Carlo Bo, Republic square, 13, 61033, Urbino, Italy.

Maria Veronica Soro

School of Conservation and Restoration, Department of Basic Sciences and Applications, University of Urbino Carlo Bo, Republic square, 13, 61033, Urbino, Italy.

Giorgia Zantedeschi

School of Conservation and Restoration, Department of Basic Sciences and Applications, University of Urbino Carlo Bo, Republic square, 13, 61033, Urbino, Italy.

Stefano Pagnotta

Civilization and Form of Knowledge Department, University of Pisa
Palabras clave:
reintegración de color, análisis de imagen, propuesta virtual, raster para vector, diagnóstico imagen
Resumen
En este trabajo se propone una metodología de análisis digital del estado de conservación de un lienzo con el fin de resolver algunas dificultades relacionadas con la reintegración pictórica de pinturas que presentan un excesivo número de diversas lagunas en términos de tamaño y extensión. El caso de estudio en concreto es un óleo sobre lienzo de pequeño tamaño realizado por un artista desconocido, donde las múltiples áreas con dichas lagunas se caracterizan por bordes complejos difíciles de analizar, clasificar y de localizar gráficamente. Requerían de una evaluación cuidadosa del método a usar durante la intervención de reintegración pictórica. A través del uso de métodos de análisis de imágenes, hemos extraído de forma semiautomática el relieve gráfico del estado de conservación, trazando diferentes propuestas operativas virtuales.
Descargas
La descarga de datos todavía no está disponible.
Citas
Adobe® Photoshop® CC Help, (Last updated 2/2/2018), pp.361-363, 471- 473. Available at: https://helpx.adobe.com/pdf/photoshop_reference.pdf, [accessed 29/06/2020].
ALTHOFER H. (2002). La questione del ritocco nel restauro pittorico. Padova: Il Prato Editore.
AMURA A. et al. (2020). "Color Segmentation and Neural Networks for Automatic Graphic Relief of the State of Conservation of Artworks." Color Culture and Science Journal 12(2): 07–15. http://jcolore.gruppodelcolore.it/ojs/index.php/CCSJ/article/view/CCSJ.120201 (September 16, 2020).
ARTHUR, D. and VASSILVITSKII S. (2007). "K-means++: The Advantages of Careful Seeding", in SODA '07: Proceedings of the Eighteenth Annual ACM-SIAM Symposium on Discrete Algorithms. New Orleans, LA. pp. 1027–1035.
BASILE, G. (2008). La storia del restauro dell'Annunciazione di Antonello da Messina. Available at: http://www.giuseppebasile.org/restauri/l-annunciazione-di-antonello-da-messina/1-la-storia-del-restauro-dell-annunciazione-di-antonello-da-messina, [accessed 29/06/2020].
BENNARDI D., FURFERI R. (2007). Il restauro Virtuale, tra ideologia e metodologia. Firenze: Edifir Editore.
BIAGI MAINO D., MAINO G. (2017). Principi e applicazioni del restauro virtuale. Collana: Studi Storia e Teoria del Restauro n°29.Firenze: Edifir Edizioni.
HEIBER, W. (2002). Thread-by-thread tear mending workshop, in Painting section Conservation News, 77: 38-39.
BRACCO, P. et al., (2002). "Caravaggio: l'incoronazione di spine' e il suo doppio", in OPD Restauro, 14: 13-42, https://www.jstor.org/stable/24395142.
BRANDI C. (1977). Teoria del Restauro. Torino: Enaudi editore.
GONZALEZ R.C., WOODS R.E. (2012). Elaborazione delle immagini digitali. (III ed.). Pavia: Pearson Pavia Bruno Mondadori S.p.A.
HENRIQUES, F., GONÇALVES A. (2010). "Analysis of lacunae and retouching areas in panel paintings using landscape metrics" in: Digital Heritage: Third International Euro-Mediterranean Conference, 99-109.
KUNZELMAN, D. et al. (2010). "Immaginare il restauro: l'integrità pittorica del dipinto visualizzata grazie al ritocco virtuale" in Le fasi finali nel restauro delle opere policrome mobili, Atti del congresso internazionale "Colore e Conservazione", Materiali e metodi nel restauro delle opere policrome mobili, Trento 19- 20/11/2010, CESMAR7, Il prato, 137-144.
McANDREW A. (2004). "An introduction to digital image processing with MatLab", Notes for scm2511 image processing, School of Computer Science and Mathematics, Victoria University of Technology, 264 (1). Available at: http://www.math.hkbu.edu.hk/~zeng/Teaching/math3615/ls.pdf, [accessed 29/06/2020].
PROTIERE A. and SAPIRO G. (2007). "Interactive Image Segmentation via Adaptive Weighted Distances" in IEEE Transactions on Image Processing, 16 (4): 1046-1057, https://doi.org/10.1109/TIP.2007.891796.
SACCO, F. (2002). "Sistematica della documentazione e progetto di restauro", Bollettino ICR, N.S. 4(1): 28-54.
STANCO F. et al. (2011). Digital Imaging for Cultural Heritage Preservation: Analysis, Restoration and Reconstruction of Ancient Artworks. CRC Press.
THE MATHWORKS. (2019). Image Processing Toolbox™ User's Guide, R2019b, © COPYRIGHT 1993–2019 by The MathWorks, Inc., 13-136.
TONAZZINI, A. et al. (2019). "Analytical and mathematical methods for revealing hidden details in ancient manuscripts and paintings" in Journal of Advanced Research, 17: 31-42, https://doi.org/10.1016/j.jare.2019.01.003.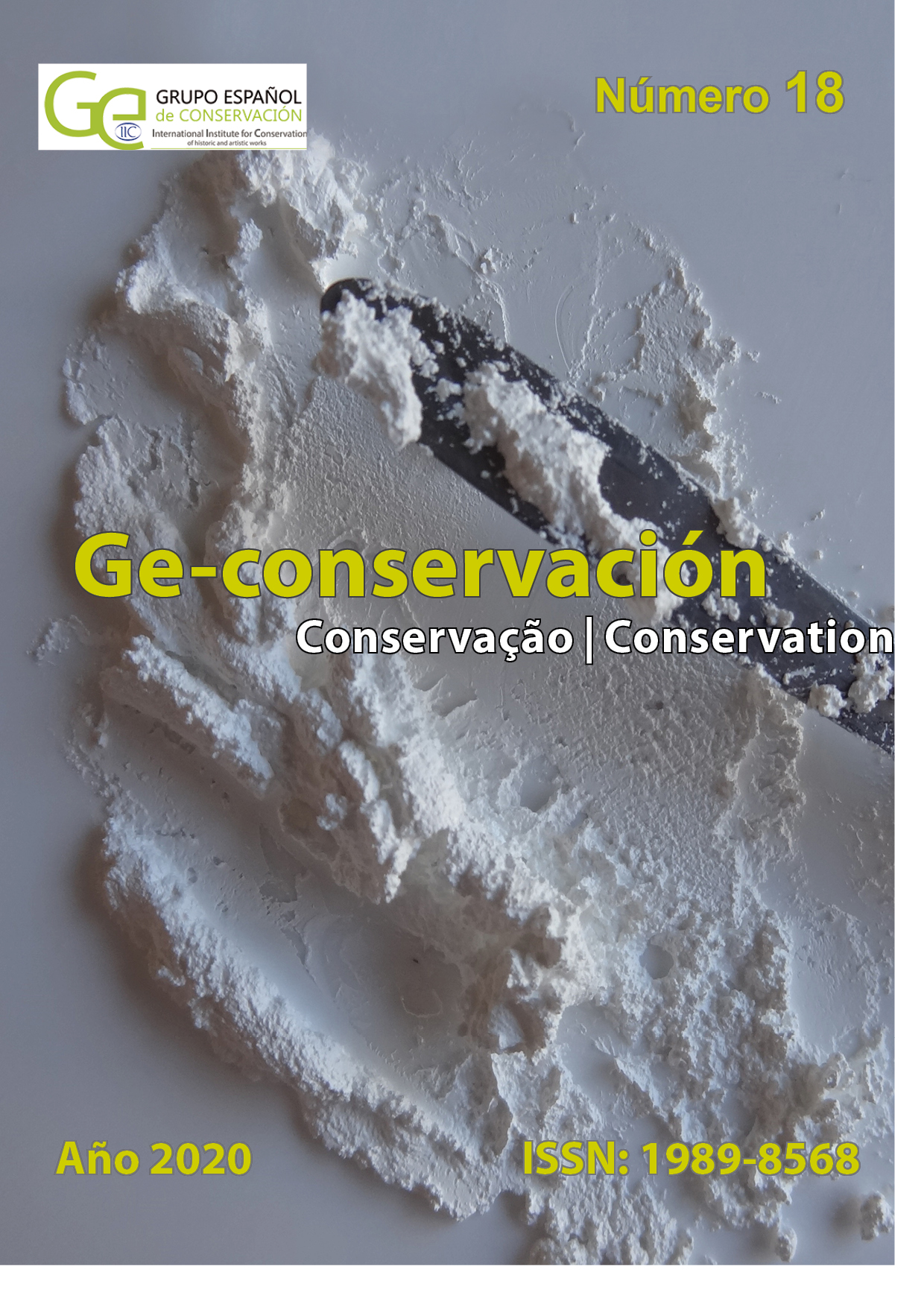 Cómo citar
Amura, A., Luisa, L., Pisani , L., Soro, M. V., Zantedeschi , G., & Pagnotta, S. (2020). Image analysis applied to the planning of a canvas painting restoration intervention. Ge-Conservacion, 18, 339-346. https://doi.org/10.37558/gec.v18i1.822
Los autores conservan los derechos de autor y propiedad intelectual, y garantizan a la revista Ge-Conservación y al GEIIC el Copyright© de los derechos de edición y publicación por cualquier medio y soporte. Las obras de dichos autores además se pueden publicar bajo una Creative Commons Attribution License que autoriza ser distribuido gratuitamente, copiado y exhibido por terceros si se muestra en los créditos la autoría y procedencia original en esta revista, y no se puede obtener ningún beneficio comercial por parte de terceros, ni tampoco se pueden realizar obras derivadas.
Los artículos podrán ser utilizados para fines científicos y formativos, pero nunca con fines comerciales, expresamente sancionado por la Ley.
La información contenida en los artículos es responsabilidad exclusiva de los autores.
La revista Ge-Conservación y los autores pueden establecer por separado acuerdos adicionales para la distribución no exclusiva de la versión de la obra publicada en la revista (por ejemplo, situarlo en un repositorio institucional o publicarlo en un libro), con un reconocimiento de su publicación inicial en esta revista.
Se permite y se anima a los autores a difundir sus trabajos electrónicamente (por ejemplo, en repositorios institucionales o en su propio sitio web) después de su publicación en la revista Ge-Conservación, ya que puede dar lugar a intercambios productivos, así como a una citación más temprana y mayor de los trabajos publicados por el autor.
Los datos personales suministrados por los autores únicamente serán utilizados para los fines de la revista y no serán proporcionados a terceros.