Silver/dioxide titanium nanocomposites as biocidal treatments on limestones
Javier Becerra Luna

Ana Paula Zaderenko Partida

Pilar Ortiz Calderón
Palabras clave:
Silver/titanium dioxide nanocomposite, Biocide, Conservation, Limestone
Resumen
Biodegradation of stones is a common and undesirable alteration in historical buildings. Restorers have been using different treatments, especially chemical methods, to prevent biodeterioration. These treatments often have disadvantages such as low long-term effectiveness, high toxicity on human health and the environment and/or physicochemical incompatibility with the original stone (chromatic alteration or chemical degradation).
In this research, different biocidal treatments based on silver and titanium dioxide nanocomposites have been tested on limestones from Utrera's quarry (Seville, Spain), a stone employed in historical buildings in the south of Spain. Two AgNPs syntheses have been studied; the principal difference between them was the use of trisodium citrate as stabilizer.
Optimum nanocomposite composition and dosage to minimize chromatic alteration after application of treatments without cut down the biocide effectiveness have been set up. Treatments based on silver-titanium dioxide (Ag/TiO2) nanocomposites stabilized with citrate have been able to keep clean the limestone due to the biopatina formation reduction and the surface color change has been below 10%.
Descargas
La descarga de datos todavía no está disponible.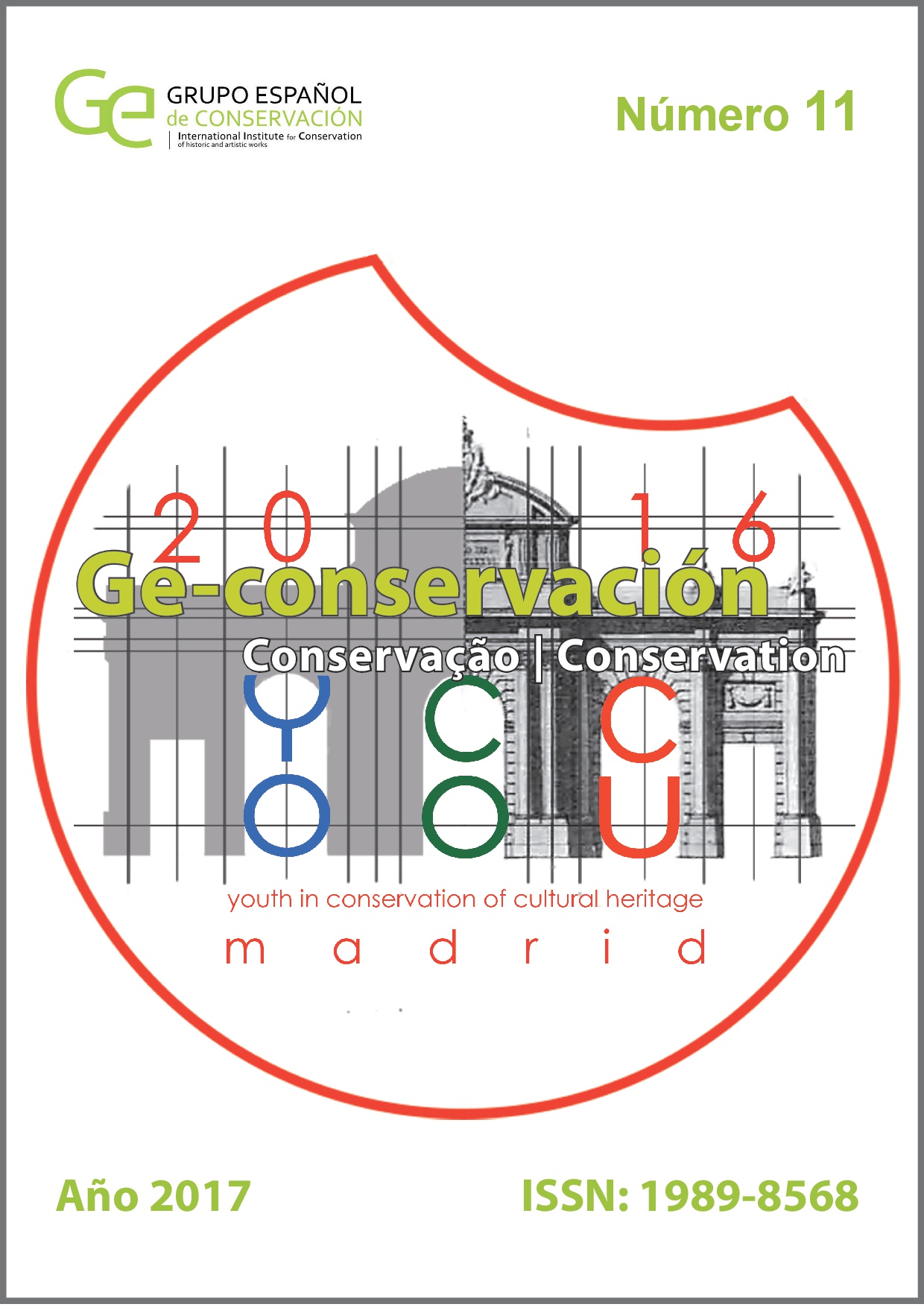 Cómo citar
Becerra Luna, J., Zaderenko Partida, A. P., & Ortiz Calderón, P. (2017). Silver/dioxide titanium nanocomposites as biocidal treatments on limestones. Ge-Conservacion, 11, 141-148. https://doi.org/10.37558/gec.v11i0.465
Los autores conservan los derechos de autor y propiedad intelectual, y garantizan a la revista Ge-Conservación y al GEIIC el Copyright© de los derechos de edición y publicación por cualquier medio y soporte. Las obras de dichos autores además se pueden publicar bajo una Creative Commons Attribution License que autoriza ser distribuido gratuitamente, copiado y exhibido por terceros si se muestra en los créditos la autoría y procedencia original en esta revista, y no se puede obtener ningún beneficio comercial por parte de terceros, ni tampoco se pueden realizar obras derivadas.
Los artículos podrán ser utilizados para fines científicos y formativos, pero nunca con fines comerciales, expresamente sancionado por la Ley.
La información contenida en los artículos es responsabilidad exclusiva de los autores.
La revista Ge-Conservación y los autores pueden establecer por separado acuerdos adicionales para la distribución no exclusiva de la versión de la obra publicada en la revista (por ejemplo, situarlo en un repositorio institucional o publicarlo en un libro), con un reconocimiento de su publicación inicial en esta revista.
Se permite y se anima a los autores a difundir sus trabajos electrónicamente (por ejemplo, en repositorios institucionales o en su propio sitio web) después de su publicación en la revista Ge-Conservación, ya que puede dar lugar a intercambios productivos, así como a una citación más temprana y mayor de los trabajos publicados por el autor.
Los datos personales suministrados por los autores únicamente serán utilizados para los fines de la revista y no serán proporcionados a terceros.