El sitio UNESCO de la Casbah en el Plan Director de Argel (PDAU): entre las exigencias patrimoniales y la necesidad de coordinación
Mohamed Boukader

Institut of Architecture and Urban Planning (I.A.U). University "Saad Dahleb" Blida 1. Algeria.

Youcef Chennaoui

Professor - Research Director École Polytechnique d'Architecture et d'Urbanisme d'Alger, EPAU Algérie. Lab: Ville, Architecture et Patrimoine EPAU. ALGER
Palabras clave:
Casbah de Argel,, conflictos, presiones de desarrollo, Patrimonio de la Humanidad, zona de amortiguamiento, patrimonio
Resumen
Este artículo aborda la cuestión de cómo proteger esos sitios históricos urbanos, inscritos en la Lista del Patrimonio Mundial de la UNESCO, del impacto negativo del estrés causado por la dinámica urbana. Planteamos la hipótesis de que, como parte de una visión holística de la protección, las medidas de salvaguarda deben integrarse en los planes de desarrollo urbano de aquellas localidades en las que estos sitios son parte integral. Esto evitará conflictos entre las exigencias del desarrollo y las medidas de salvaguardia.
A través del ejemplo del sitio de la UNESCO de la Casbah, examinaremos la estrategia del PDAU de Argel, para salvaguardar el sitio de la UNESCO y su reintegración en la aglomeración de Argel. Este artículo adopta una metodología basada en un análisis crítico y comparativo del plan estratégico de patrimonio, tal como se establece en el PDAU. Examina las medidas de salvaguardia propuestas y evalúa su coordinación con el plan de salvaguardia.
Un examen de las soluciones propuestas por el PDAU revela varias debilidades morfológicas y prescripciones contradictorias, favoreciendo una mala conexión entre el plan de salvaguardia y el PDAU. En consecuencia, solo un enfoque integrado de la conservación urbana reforzará la protección del sitio y garantizará su reconexión con la metrópoli de Argel.
Descargas
La descarga de datos todavía no está disponible.
Citas
BANDARIN, F., & VAN OERS, R. (2012). The Historic Urban Landscape: Managing Heritage in an Urban Century. Chichester: Wiley-Blackwell.
BANDARIN, F., & VAN OERS, R. (2015). Reconnecting the City The Historic Urban Landscape Approach and the Future of Urban Heritage Chichester: Wiley-Blackwell.
BOUKADER, M., & CHENNAOUI Y. (2019). Evaluation of the actual protection zone of the UNESCO site Casbah of Algiers: current inconsistencies, and need to preserve its integrity. Ge-Conservacion, 15: 39-49. https://doi.org/10.37558/gec.v15i0.547.
BOUSSAA, D. (2012). The Casbah of Algiers, in Algeria; From an Urban Slum to a Sustainable Living Heritage, in American Transactions on Engineering & Applied Sciences, 3 (1). Online Available at http://TuEngr.com/ATEAS/V01/335-350.pdf.
C.N.E.R.U. (2010). PSMVSS de la Casbah d'Alger, Règlement, Alger. Final Edition.
CONZEN, M.R.G. (1966) 'Historical townscapes in Britain: a problem in applied geography', in House, J.W. (ed.) Northern Geographical Essays in Honour of G.H.J. Daysh, Newcastle upon Tyne: Oriel Press.
CRESTI, F. (1993). Contribution à l'histoire d'Alger. Rome: Centro Analisi Sociali Progetti.
DRISS, N. (2005). "Monde en marge et idendité urbaine. La Casbahd'Alger où le refuge des exclus." Dans Habiter le patrimoine, enjeux- approches - vecu, de Maria Gravari-Barbas. Rennes: PressesUniversitaires de Rennes, 93- 109.
LESBET, DJ. (1985). La Casbah d'Alger Gestion Urbaine et Vide Social. Algiers: OPU.
LESBET, D. J. ( 2006). "Alger: habiter l'Indépendance." La pensée de midi,18: 21-30. www.cairn.info/revue-la-pensee-de-midi-2006-2-page-21.htm.
C.N.E.R.U. (2010). PPSMVSS de la Casbah d'Alger, Règlement, Alger. Final Edition.
CHAOY, F. ( 2009). Le patrimoine en question, anthologie pour un combat. Paris: Le Seuil.
FERNANDEZ BACA, R. (2013). "Impact analysis methodology in historic cities, case of Seville", in International, meeting on contemporary architecture in historic cities. Final Rapport, Seville, Unesco.
FEILDEN, B. M. and JOKILEHTO, J. (1998). "Management guidelines for World Heritage Cultural Sites". Rome: ICCROM.
GABRIELLI, B, (2010). Urban planning challenged by historic urban landscape, in Unesco, ed. Managing Historic Cities. World Heritage Papers 27. Paris: UNESCO.
GABELLINI, P. (2008). "Un progetto urbanistico per la città storica", La città storica contemporanea, Ferrara: Urban Center Bologna, Edisai, 94–98.
GAILLARD , B & RODWELL, D. (2015). The Governance of Urban Heritage, The Historic Environment: Policy & Practice, 6(1): 16-40.
GASPARRINI, C. (2001). 'Strategie, regole e progetti per la Città storica / Strategies, rules and projects for the historical city", Urbanistica, 116: 93–116, 238–241.
HADJRI, K. AND OSMANI, M. (2004). The spatial development and urban transformation of colonial and postcolonial Algiers, in Planning Middle Eastern Cities: An Urban Kaleidoscope, London, Routledge, 29-55.
ICOMOS (1975). The declaration of Amsterdam. https://www.icomos.org/en.
ICOMOS (1987). Charter for the Conservation of Historic Towns and Urban Areas (The Washington Charter). https://www.icomos.org/en
ICOMOS (2011). The Valletta Principles for the Safeguarding and Management of Historic Cities, Towns and Urban Areas, https://www.icomos.org/en
GIOVANNONI, G. (1995). L'urbanisme face aux villes anciennes. Town planning face to ancients cities , Paris.
NEYRET, R. (2008). "Du monument isolé au "tout patrimoine"", Géocarrefour, 79(3): 231-237. https://doi.org/10.4000/geocarrefour.746
NORA, P. (1986). Les Lieux de mémoire; Paris. Gallimard, abridged translation (1998), Realms of Memory, Columbia University Press.
NORBERG SCHULZ C. (1980). Genius Loci, Towards a Phenomenology of Architecture, New York Rizzoli.
PARQUE EXPO, (2011). PDAU of Algiers. Guidelines, Parque Expo, Algiers.
PARQUE EXPO, (2010). PDAU d'Alger, cahier des prescriptions spéciales (livrable 2. Transversale N° 4. Aménagement de la Promenade de la Mémoire. Prescriptions Techniques pour l'élaboration Dossier de consultation d'Entreprises.
PARQUE EXPO (2010). PDAU D'Alger, Cahier des prescriptions spéciales Livrable 2. Aménagement des Transversale 1 Et 2 | Prescriptions Techniques. Avant projet sommaire, BC L2.
RODWELL, D. (2007). Conservation and Sustainability in Historic Cities, Oxford Blackwell.
ROSSI, A3 (1981). L'architecture de la ville. (Trad.franç). Paris, Equerre.
SALMERON ESCOBAR, P. (2013). "Impact evaluation: the case of Seville", in International, meeting on contemporary architecture in historic cities. Final Rapport, Seville, Unesco.
SPIGAI,V A.LEVY. (1989). Il Piano e l'architettura della città. Venezia: Cluva.
SPIGAI. V. (1995). L'architettura della non città, ridisengnare le periferie. Milano: Città Studi.
SIRAVO, F. (2011). Conservation Planning The Road Less Traveled, in THE GCI NEWSLETTER VOLUME 26 • NUMBER 2 • FALL 2011.
UNESCO (2011). World Heritage Committee, Recommandation sur le paysage urbain historique, 27 mai 2011, http://whc.unesco.org/uploads/activities/documents/activity-638-58.pdf.
UNESCO (2009). WHC-09/33.COM/20 Séville, 20 juillet 2009, (décision : 33 COM 7A.2 6).
UNESCO, WHC-33. COM 7 B .52 Casbah d'Alger, WHC-35 COM 7 B .47, Casbah d'Alger, WHC-37 COM 7 B .46, Casbah d'Alger, WHC-39 COM 7 B .46, Casbah d'Alger https://whc.unesco.org/en/list/565/.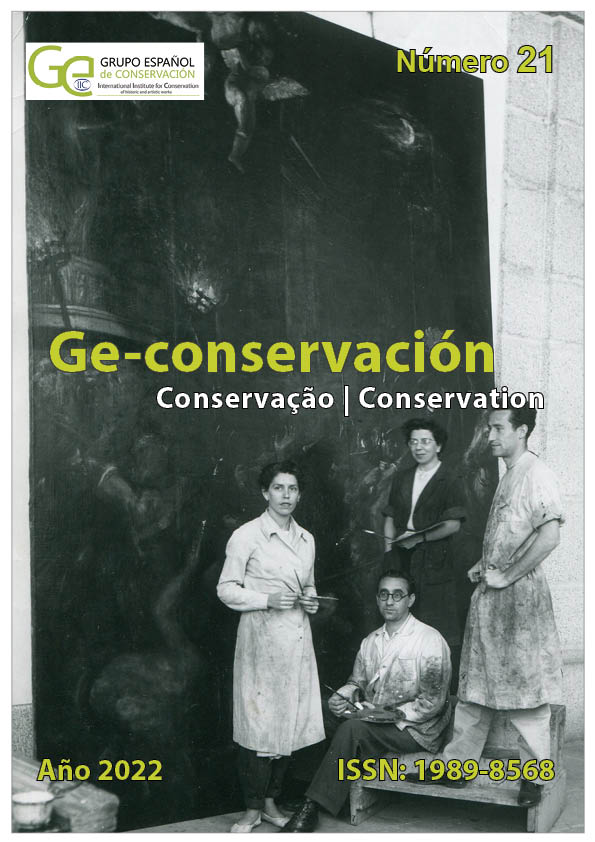 Cómo citar
Boukader, M., & Chennaoui, Y. (2022). El sitio UNESCO de la Casbah en el Plan Director de Argel (PDAU): entre las exigencias patrimoniales y la necesidad de coordinación. Ge-Conservacion, 21(1), 205-218. https://doi.org/10.37558/gec.v21i1.1053
Los autores conservan los derechos de autor y propiedad intelectual, y garantizan a la revista Ge-Conservación y al GEIIC el Copyright© de los derechos de edición y publicación por cualquier medio y soporte. Las obras de dichos autores además se pueden publicar bajo una Creative Commons Attribution License que autoriza ser distribuido gratuitamente, copiado y exhibido por terceros si se muestra en los créditos la autoría y procedencia original en esta revista, y no se puede obtener ningún beneficio comercial por parte de terceros, ni tampoco se pueden realizar obras derivadas.
Los artículos podrán ser utilizados para fines científicos y formativos, pero nunca con fines comerciales, expresamente sancionado por la Ley.
La información contenida en los artículos es responsabilidad exclusiva de los autores.
La revista Ge-Conservación y los autores pueden establecer por separado acuerdos adicionales para la distribución no exclusiva de la versión de la obra publicada en la revista (por ejemplo, situarlo en un repositorio institucional o publicarlo en un libro), con un reconocimiento de su publicación inicial en esta revista.
Se permite y se anima a los autores a difundir sus trabajos electrónicamente (por ejemplo, en repositorios institucionales o en su propio sitio web) después de su publicación en la revista Ge-Conservación, ya que puede dar lugar a intercambios productivos, así como a una citación más temprana y mayor de los trabajos publicados por el autor.
Los datos personales suministrados por los autores únicamente serán utilizados para los fines de la revista y no serán proporcionados a terceros.