El Retouching Scientific Photography – The Glass Plate Negatives Collection at the Natural History and Science Museum – University of Porto
Resumen
his work presents a part of a research project on retouching gelatin glass plate photographic negatives, its intentions, impact of the practice on the image and object and its current state of conservation. This is a case study on the use of retouching techniques on a scientific collection belonging to the former Dr. Mendes Correia Anthropology Institute, of the Natural History and Science Museum - University of Porto (MHNC-UP). In scientific photography there is a need for a rigorous record and true representation, which sets apart this type of photographic collection from others. Any alterations, such as retouching, should therefore have little or none aesthetic intentions. Retouched negatives were identified in this scientific and academic collection, and allowed to ascertain the purpose of their use and support the need for its preservation.
Citas
CARVALHO, A. (1940)."Comemoração do Centenário da Fotografia". Sep. Memórias da Academia das Ciências de Lisboa, classe Ciências. Lisboa: Academia das Ciências de Lisboa.

CORREIA, A. A. M. (1916). "Sobre alguns objectos protoistóricos e lusitano-romanos especialmente de Alpiarça e Silvã". Lisboa. O Archeologo Português XXI: 331-337.

CORREIA, A. A. M. (1940). "Nota sobre a fotografia aplicada à Antropologia em Portugal". In Comemoração do Centenário da Fotografia. Sep. Memórias da Academia das Ciências de Lisboa, classe Ciências, Carvalho, A. (coord.). Lisboa: Academia das Ciências de Lisboa, 123-125.

COSTA, F. M; JARDIM, M. E. (coord.). (2014). 100 anos de fotografia científica em Portugal (1839-1939). Imagens e instrumentos. Lisboa: Edições 70.

FRIZOT, M. (dir.) (1995). Nouvelle Histoire de la Photographie. Paris: Ed. Bordas - Adam Biro.
HANNAVY, J. (Ed.). (2007). Encyclopedia of Nineteenth-Century Photography. New York: Routledge.

HERRERA GARRIDO, R. (2011)."Técnicas de retoque de negativos fotográficos historia y conservación". Pátina, 16: 125-136.http://revista-patina.escrbc.com/numero/16. [Accessed: 03/05/2016].

MATOS, P. (2012). "Mendes Correia e a Escola de Antropologia do Porto: Contribuição para o estudo das relações entre antropologia, nacionalismo e colonialismo (de finais do século XIX aos finais da década de 50 do século XX)". Thesis. Lisbon: Instituto de Ciências Sociais da Universidade de Lisboa.http://hdl.handle.net/10451/7831. [Accessed 02-11-2016].

MATOS, P. F. (2014). "A fotografia na obra de Mendes Correia (1 888-19ó0): Modos de representar, diferenciar e classificar da Antropologia Colonial". In O Império da Visão – Fotografia no contexto colonial Português (1860-1960). Vicente, F. L. (org.).Lisboa: Edições 70, 45-66.

NUNES, M. F. (2005). "Arqueologia de uma prática científica em Portugal – uma história da fotografia". História. III - 6: 169-183. http://ler.letras.up.pt/uploads/ficheiros/3382.pdf. [Accessed 02-11-2016].

PEDERSEN, K. B.; Kejser, U. B.; Christensen, M. C. (2005). Coatings on Black-and-white Glass Plates and Films. In C. McCabe, Coatings on Photographs: Materials, Techniques, and Conservation (pp. 108-131). American Institute for Conservation of Histooric and Artistic Works.

PEREIRA, C. (2010). "O retoque do negativo fotográfico: estudo de uma colecção do Arquivo Fotográfico da Câmara Municipal de Lisboa". Estudos de Conservação e Restauro, 2: 38-57. http://revistas.rcaap.pt/ecr/article/view/3153/2542. [Accessed: 03/5/2016].

PEREIRA, C. (2016). "Materials and techniques for retouching glass plate photographic negatives in the beginning of the 20th century". In III International Meeting on Retouching of Cultural Heritage: RECH3. Porto. Escola Artística e Profissional Árvore, 65-72 https://issuu.com/ineditar/docs/postprints_rech3 [Accessed: 03/5/2016].

PERES, I. V. (2013). "Fotografia científica em Portugal, das origens ao séc. XX: investigação e ensino em química e instrumentação", thesis. Lisbon: Faculdade de Belas Artes da Universidade de Lisboa. http://hdl.handle.net/10451/8692. [Accessed: 03/10/2016].

SCHRIEVER, J. B. (1909). Complete self-instructing library of practical photography Vol. 1-10 Scranton: American School of Art and Photography. https://archive.org/details/completeselfinst10schriala. [Accessed: 10/6/2016]

SILVA, A. S. (1997)."O Porto em busca da Renascença (1880-1911)". Penélope: Género, discurso e guerra, 17: 51-69.

VOGEL, H. W. (1870). Lehrbuch der Photographie - Theorie, Praxis und Kunst der Photographie. Berlin: Louis Gerschel Verlagsbuchhandlung. https://archive.org/details/lehrbuchderphoto00voge. [Accessed: 03/05/2016].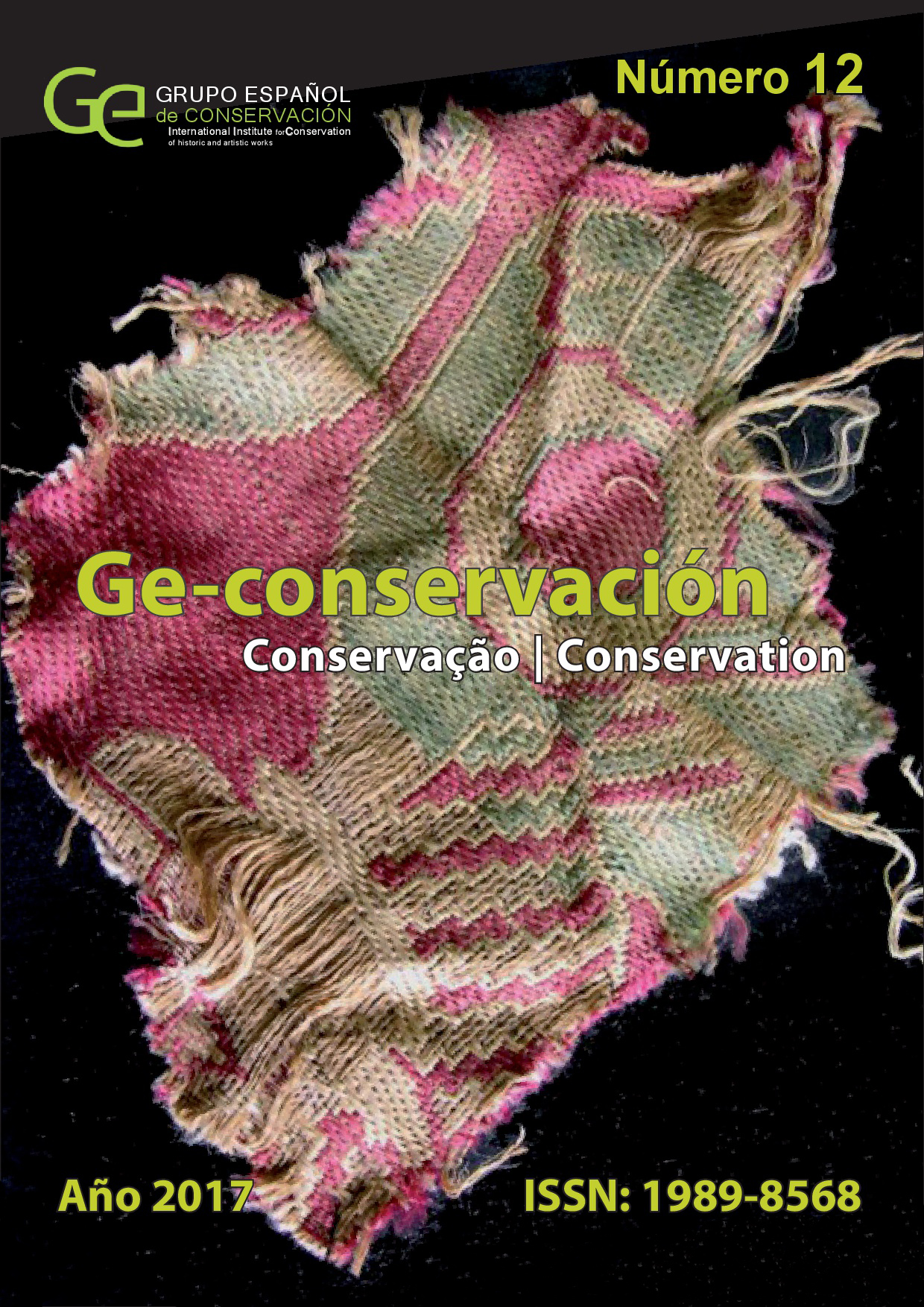 Cómo citar éste artículo
CORTES PEREIRA, Catarina Luísa et al. El Retouching Scientific Photography – The Glass Plate Negatives Collection at the Natural History and Science Museum – University of Porto.
Ge-conservación
, [S.l.], n. 12, p. 101-110, dic. 2017. ISSN 1989-8568. Disponible en: <
https://ge-iic.com/ojs/index.php/revista/article/view/540
>. Fecha de acceso: 22 ene. 2020
Los autores conservan los derechos de autor y propiedad intelectual, y garantizan a la revista Ge-Conservación y al GEIIC el Copyright© de los derechos de edición y publicación por cualquier medio y soporte. Las obras de dichos autores además se pueden publicar bajo una Creative Commons Attribution License que autoriza ser distribuido gratuitamente, copiado y exhibido por terceros si se muestra en los créditos la autoría y procedencia original en esta revista, y no se puede obtener ningún beneficio comercial por parte de terceros, ni tampoco se pueden realizar obras derivadas.
Los artículos podrán ser utilizados para fines científicos y formativos, pero nunca con fines comerciales, expresamente sancionado por la Ley.
La información contenida en los artículos es responsabilidad exclusiva de los autores.
La revista Ge-Conservación y los autores pueden establecer por separado acuerdos adicionales para la distribución no exclusiva de la versión de la obra publicada en la revista (por ejemplo, situarlo en un repositorio institucional o publicarlo en un libro), con un reconocimiento de su publicación inicial en esta revista.
Se permite y se anima a los autores a difundir sus trabajos electrónicamente (por ejemplo, en repositorios institucionales o en su propio sitio web) después de su publicación en la revista Ge-Conservación, ya que puede dar lugar a intercambios productivos, así como a una citación más temprana y mayor de los trabajos publicados por el autor.
Los datos personales suministrados por los autores únicamente serán utilizados para los fines de la revista y no serán proporcionados a terceros.