Current guidelines review for the preservation of plastics emitters of gaseous pollutants in Contemporary Art museums
Sara Liébana Molina

Universidad del País Vasco
Palabras clave:
plastic, contemporary art., modern materials, malignant plastics, gaseous pollutants, preservation protocols, contemporary art
Resumen
Plastic contemporary artworks preservation is being a research object for the latter years. Even though so, gaseous pollutants emissions problem has not been studied in depth from the conservation-preservation field.
This article shows the results after the review on the most recent researches related to this problem. We also include the conclusions from the nineteen answers obtained from the surveys carried out in museums and institutions whose collections hold plastic made objects and pieces of art.
The data collection analysis brings to light the absence of specific protocols for plastic preservation, even more so if it is about those emitting gaseous pollutants.
Descargas
La descarga de datos todavía no está disponible.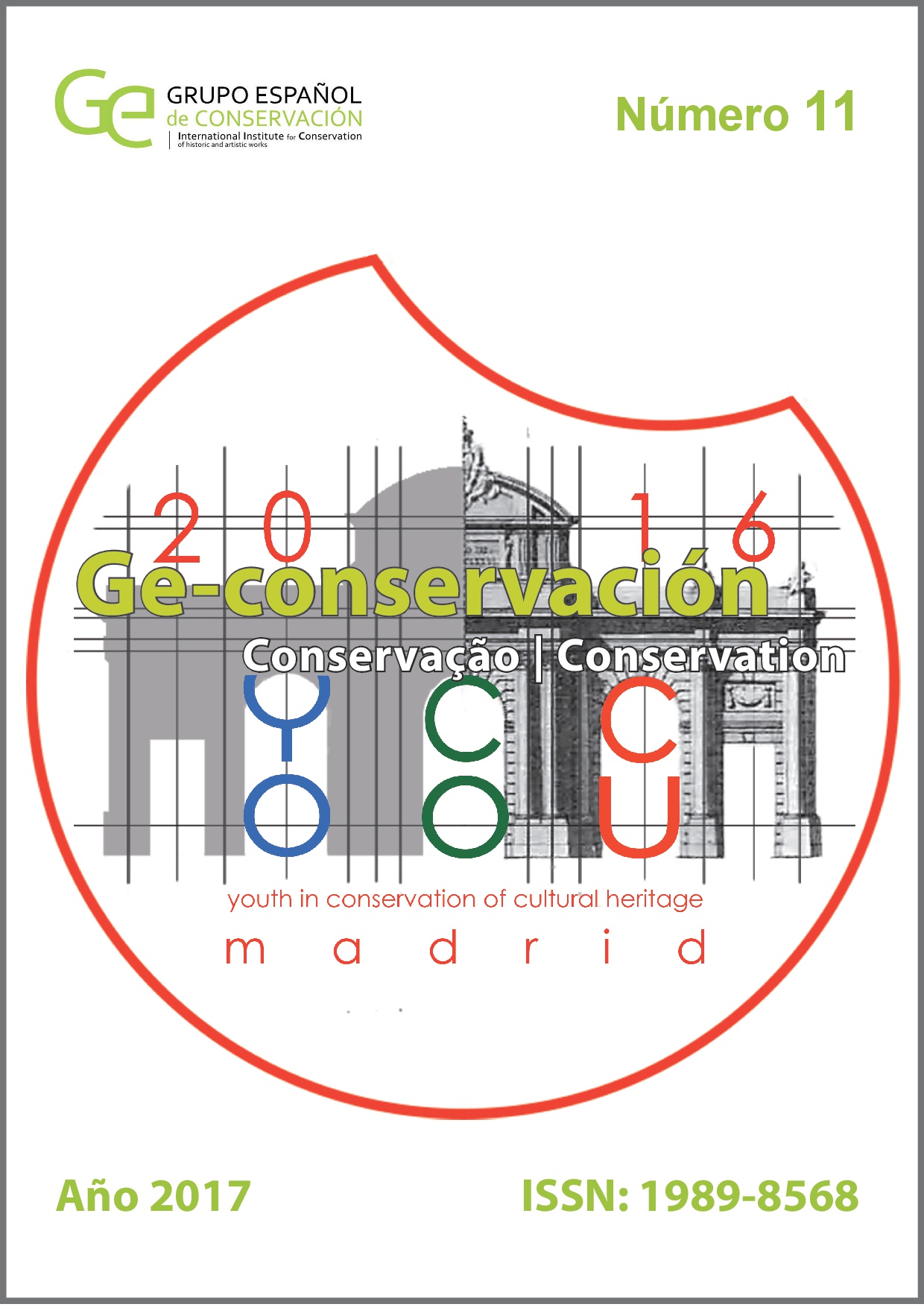 Cómo citar
Liébana Molina, S. (2017). Current guidelines review for the preservation of plastics emitters of gaseous pollutants in Contemporary Art museums. Ge-Conservacion, 11, 278-285. https://doi.org/10.37558/gec.v11i0.507
Los autores conservan los derechos de autor y propiedad intelectual, y garantizan a la revista Ge-Conservación y al GEIIC el Copyright© de los derechos de edición y publicación por cualquier medio y soporte. Las obras de dichos autores además se pueden publicar bajo una Creative Commons Attribution License que autoriza ser distribuido gratuitamente, copiado y exhibido por terceros si se muestra en los créditos la autoría y procedencia original en esta revista, y no se puede obtener ningún beneficio comercial por parte de terceros, ni tampoco se pueden realizar obras derivadas.
Los artículos podrán ser utilizados para fines científicos y formativos, pero nunca con fines comerciales, expresamente sancionado por la Ley.
La información contenida en los artículos es responsabilidad exclusiva de los autores.
La revista Ge-Conservación y los autores pueden establecer por separado acuerdos adicionales para la distribución no exclusiva de la versión de la obra publicada en la revista (por ejemplo, situarlo en un repositorio institucional o publicarlo en un libro), con un reconocimiento de su publicación inicial en esta revista.
Se permite y se anima a los autores a difundir sus trabajos electrónicamente (por ejemplo, en repositorios institucionales o en su propio sitio web) después de su publicación en la revista Ge-Conservación, ya que puede dar lugar a intercambios productivos, así como a una citación más temprana y mayor de los trabajos publicados por el autor.
Los datos personales suministrados por los autores únicamente serán utilizados para los fines de la revista y no serán proporcionados a terceros.