Cultural management in the National Palace of Mexico: use and heritage conservation
Lilia Rivero

Secretaria de Hacienda y Crédito Público
Palabras clave:
Cultural Management, Preventive Conservation, Strategic Planning
Resumen
Conservation of Mexico National Palace is a complex labor, since implies the preservation, not only of the material aspects of the building and the objects contained within, but also all the immaterial values reflected on the walls of the structure that mirrors the historic continuity of Mexico and therefore part of the national identity. Due these conditions, National Palace is in our days the most emblematic and symbolical government building of the country.
In order to preserve the monument, a comprehensive conservation-cultural management program has been developed and implemented, considering operational aspects of the monument management, that is also part of the cultural infrastructure of Mexico City, since this historical complex attracts around 340 000 visitors each year.
In addition, among the Conservator´s Office strategy has been to promote collaboration between different actors involved with the use, operation and conservation of the monument, in which are included external governmental offices and academic institutions, both national and international. This collaborative approach has been crucial in order to implement the Management Program for the conservation of the monument.
Descargas
La descarga de datos todavía no está disponible.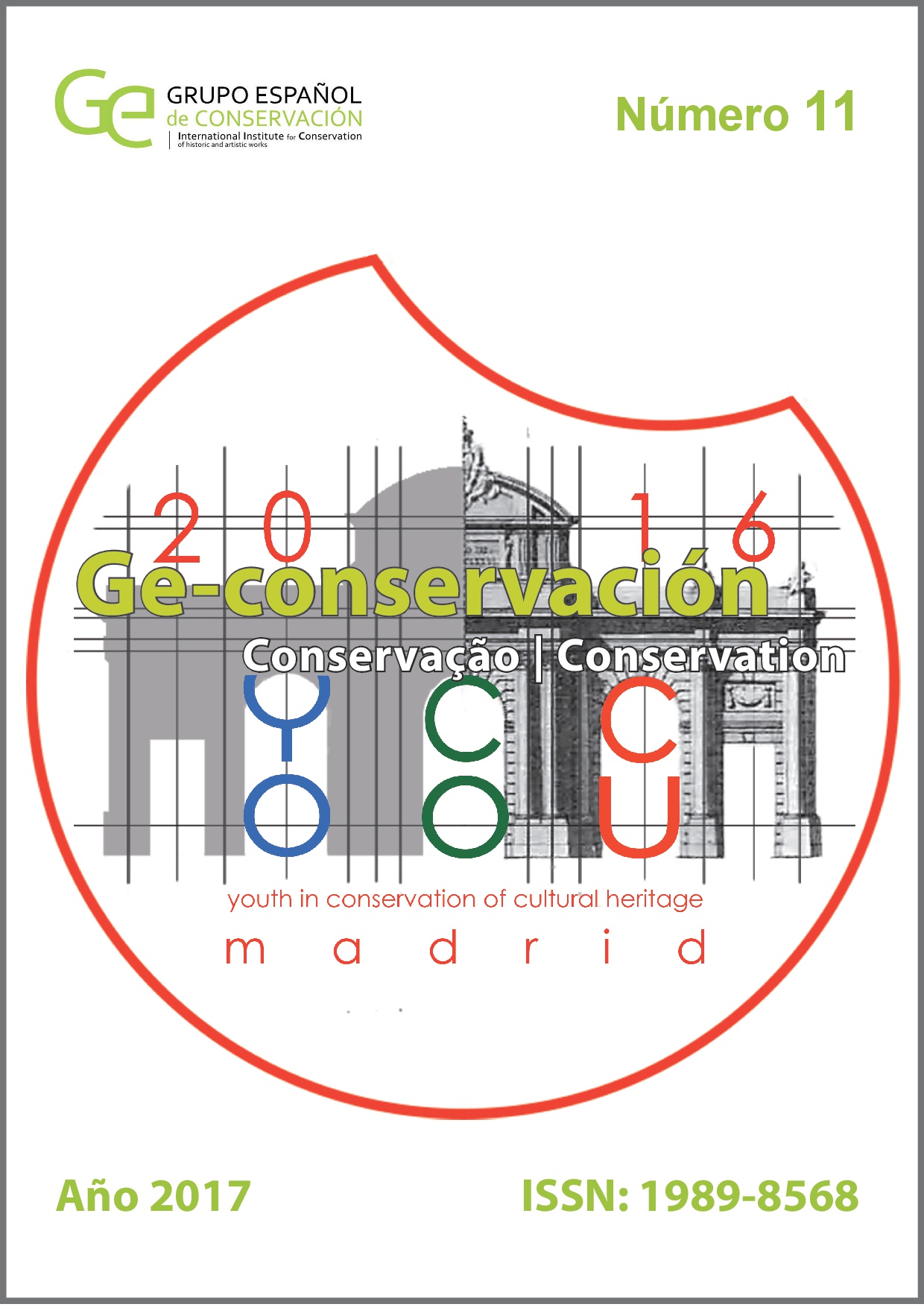 Cómo citar
Rivero, L. (2017). Cultural management in the National Palace of Mexico: use and heritage conservation. Ge-Conservacion, 11, 243-249. https://doi.org/10.37558/gec.v11i0.489
Los autores conservan los derechos de autor y propiedad intelectual, y garantizan a la revista Ge-Conservación y al GEIIC el Copyright© de los derechos de edición y publicación por cualquier medio y soporte. Las obras de dichos autores además se pueden publicar bajo una Creative Commons Attribution License que autoriza ser distribuido gratuitamente, copiado y exhibido por terceros si se muestra en los créditos la autoría y procedencia original en esta revista, y no se puede obtener ningún beneficio comercial por parte de terceros, ni tampoco se pueden realizar obras derivadas.
Los artículos podrán ser utilizados para fines científicos y formativos, pero nunca con fines comerciales, expresamente sancionado por la Ley.
La información contenida en los artículos es responsabilidad exclusiva de los autores.
La revista Ge-Conservación y los autores pueden establecer por separado acuerdos adicionales para la distribución no exclusiva de la versión de la obra publicada en la revista (por ejemplo, situarlo en un repositorio institucional o publicarlo en un libro), con un reconocimiento de su publicación inicial en esta revista.
Se permite y se anima a los autores a difundir sus trabajos electrónicamente (por ejemplo, en repositorios institucionales o en su propio sitio web) después de su publicación en la revista Ge-Conservación, ya que puede dar lugar a intercambios productivos, así como a una citación más temprana y mayor de los trabajos publicados por el autor.
Los datos personales suministrados por los autores únicamente serán utilizados para los fines de la revista y no serán proporcionados a terceros.