A wider study of contemporary art based on Mikel Diez Alaba´s Mínimos series
Irene Cárdaba-López

Iraia Anthonisen Añabeitia
Palabras clave:
Conservation, contemporary art, cultural heritage, natural heritage, landscape
Resumen
This research is based on the work of the Basque contemporary artist Mikel Diez Alaba and his series called Mínimos, which gathers up to 144 small size pieces made out of acrylic paint applied on printed images. This collection was displayed on the Museum of Fine Arts of Bilbao during 2014.
The main objective of this paper is to reach a more integral conception of conservation –based on the latest theories regarding heritage-, focusing on material aspects and the conceptual characteristics of the artwork, alike. Thereby, the working method in Mínimos series has been analyzed, as well as the presence of elements linked to the natural heritage. All this, taken together allows the establishment of new strategies towards the conservation of contemporary artworks.
Descargas
La descarga de datos todavía no está disponible.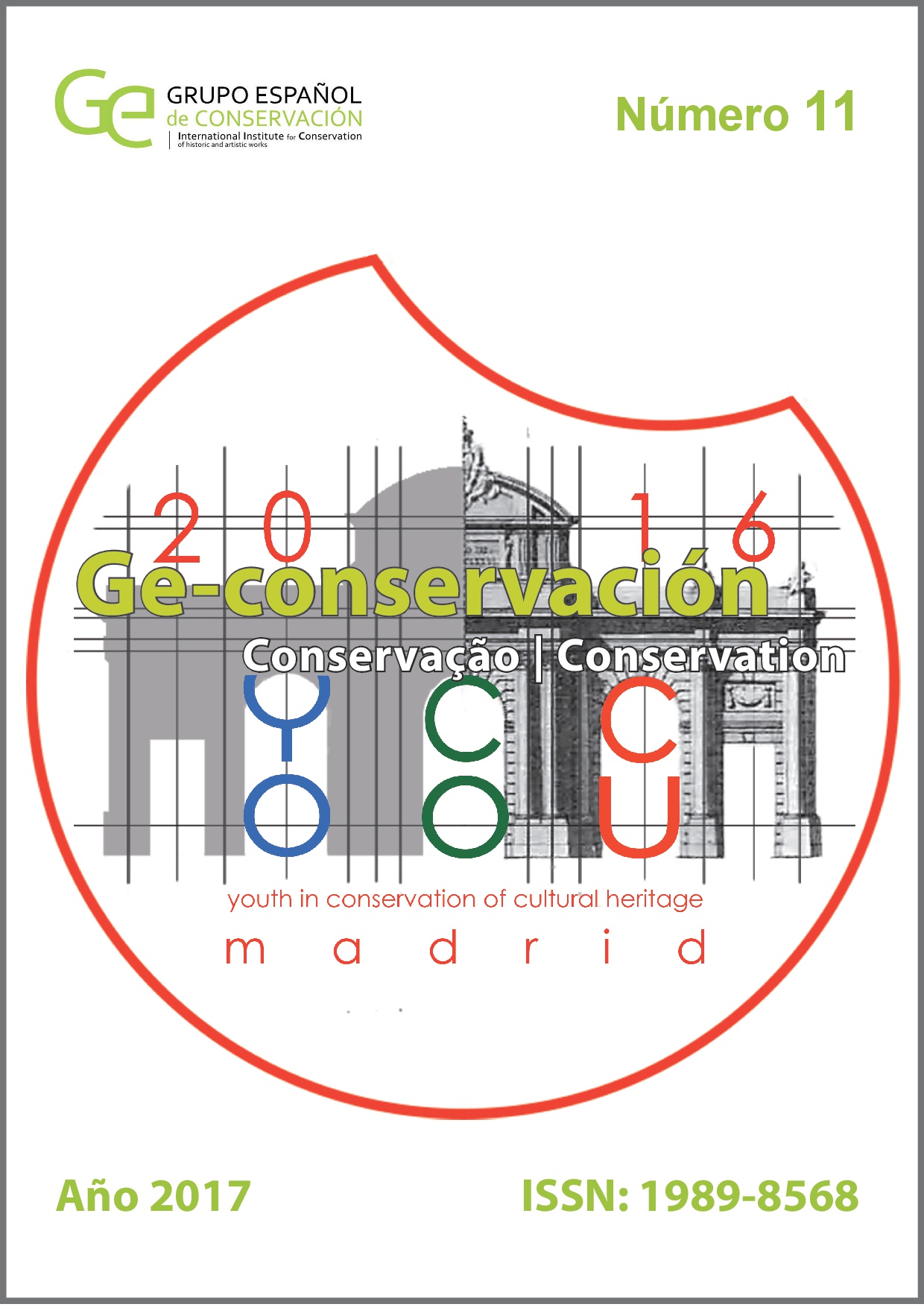 Cómo citar
Cárdaba-López, I., & Anthonisen Añabeitia, I. (2017). A wider study of contemporary art based on Mikel Diez Alaba´s Mínimos series. Ge-Conservacion, 11, 237-242. https://doi.org/10.37558/gec.v11i0.488
Los autores conservan los derechos de autor y propiedad intelectual, y garantizan a la revista Ge-Conservación y al GEIIC el Copyright© de los derechos de edición y publicación por cualquier medio y soporte. Las obras de dichos autores además se pueden publicar bajo una Creative Commons Attribution License que autoriza ser distribuido gratuitamente, copiado y exhibido por terceros si se muestra en los créditos la autoría y procedencia original en esta revista, y no se puede obtener ningún beneficio comercial por parte de terceros, ni tampoco se pueden realizar obras derivadas.
Los artículos podrán ser utilizados para fines científicos y formativos, pero nunca con fines comerciales, expresamente sancionado por la Ley.
La información contenida en los artículos es responsabilidad exclusiva de los autores.
La revista Ge-Conservación y los autores pueden establecer por separado acuerdos adicionales para la distribución no exclusiva de la versión de la obra publicada en la revista (por ejemplo, situarlo en un repositorio institucional o publicarlo en un libro), con un reconocimiento de su publicación inicial en esta revista.
Se permite y se anima a los autores a difundir sus trabajos electrónicamente (por ejemplo, en repositorios institucionales o en su propio sitio web) después de su publicación en la revista Ge-Conservación, ya que puede dar lugar a intercambios productivos, así como a una citación más temprana y mayor de los trabajos publicados por el autor.
Los datos personales suministrados por los autores únicamente serán utilizados para los fines de la revista y no serán proporcionados a terceros.