The palette of a 16th century Venetian artist: materials and methods of Giovanni da Mel
Anna Impallaria

University of Ferrara

Flavia Tisato

Ferruccio Petrucci

Maurizio Dal Colle

Emanuela Ruggio
Palabras clave:
non-invasive diagnostics, integrated techniques, in situ analysis, Renaissance Italian art, artistic technique and materials
Resumen
Giovanni da Mel (1480-1549) was an Italian Renaissance artist. He worked in the Veneto region and devoted himself to the fresco technique, in his family workshop. During the last part of his life, in the church of Trichiana (Belluno), he painted an altarpiece, which seems to be his only work on canvas.
Thanks to the collaboration between restorers and scientists, it was possible to explore in depth this peculiar painting. The imaging techniques helped in the identification of the artistic methodology, for example highlighting the use of engraving the preparation to draw (typical of the fresco technique). Then, the application of spot analysis allowed the identification of the artist's palette, revealing some peculiarities as the addition of a copper based pigment to the bone black, in order to dry the oil. The diagnostic techniques have fully characterized the altarpiece from a methodological and material point of view.
Descargas
La descarga de datos todavía no está disponible.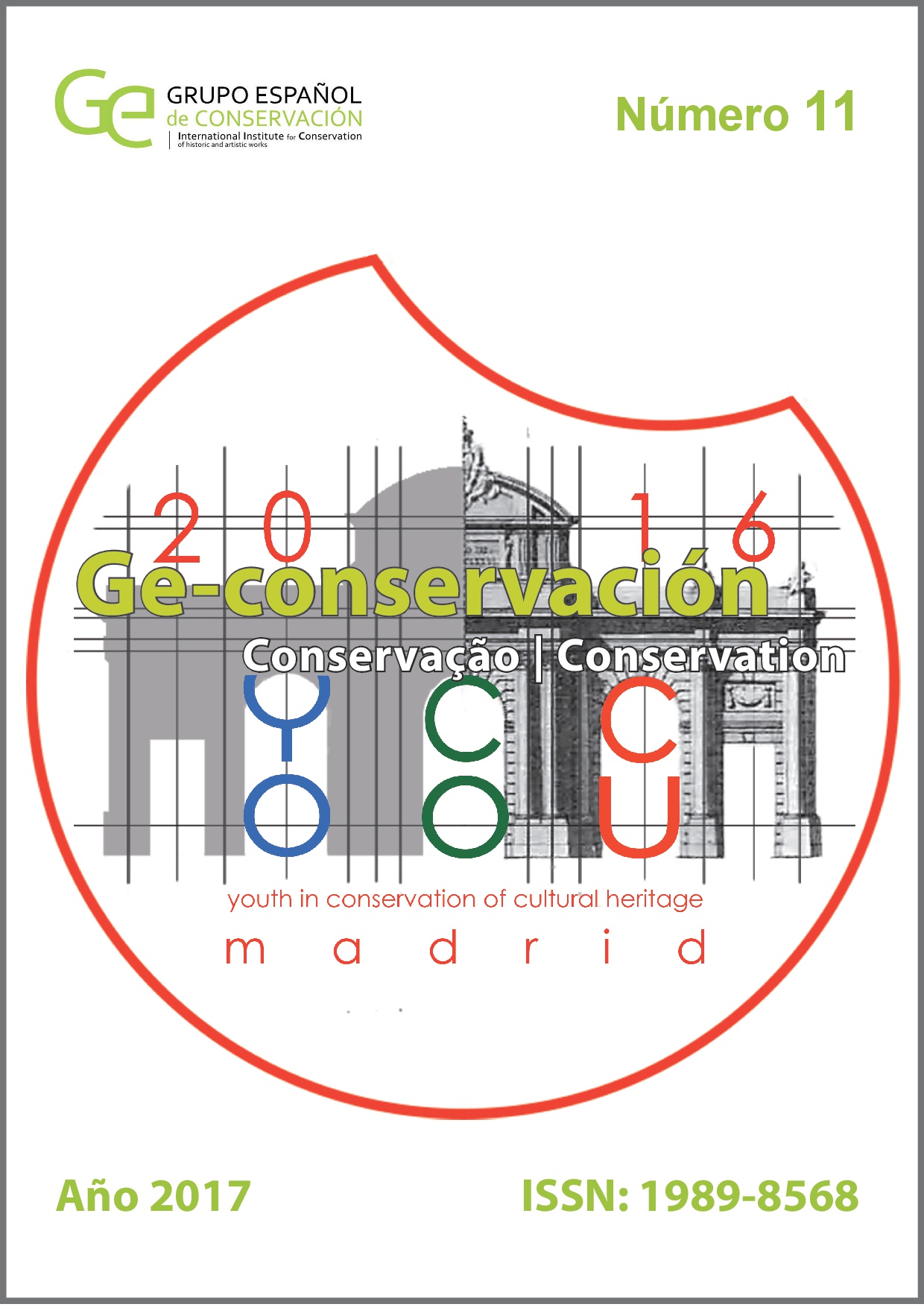 Cómo citar
Impallaria, A., Tisato, F., Petrucci, F., Dal Colle, M., & Ruggio, E. (2017). The palette of a 16th century Venetian artist: materials and methods of Giovanni da Mel. Ge-Conservacion, 11, 230-236. https://doi.org/10.37558/gec.v11i0.487
Los autores conservan los derechos de autor y propiedad intelectual, y garantizan a la revista Ge-Conservación y al GEIIC el Copyright© de los derechos de edición y publicación por cualquier medio y soporte. Las obras de dichos autores además se pueden publicar bajo una Creative Commons Attribution License que autoriza ser distribuido gratuitamente, copiado y exhibido por terceros si se muestra en los créditos la autoría y procedencia original en esta revista, y no se puede obtener ningún beneficio comercial por parte de terceros, ni tampoco se pueden realizar obras derivadas.
Los artículos podrán ser utilizados para fines científicos y formativos, pero nunca con fines comerciales, expresamente sancionado por la Ley.
La información contenida en los artículos es responsabilidad exclusiva de los autores.
La revista Ge-Conservación y los autores pueden establecer por separado acuerdos adicionales para la distribución no exclusiva de la versión de la obra publicada en la revista (por ejemplo, situarlo en un repositorio institucional o publicarlo en un libro), con un reconocimiento de su publicación inicial en esta revista.
Se permite y se anima a los autores a difundir sus trabajos electrónicamente (por ejemplo, en repositorios institucionales o en su propio sitio web) después de su publicación en la revista Ge-Conservación, ya que puede dar lugar a intercambios productivos, así como a una citación más temprana y mayor de los trabajos publicados por el autor.
Los datos personales suministrados por los autores únicamente serán utilizados para los fines de la revista y no serán proporcionados a terceros.