Conservation and restoration works of the Four Sewers Fountain in Daganzo (Madrid, Spain)
Vanesa García Alcocer

José Juste Ballesta

Elsa Soria Hernanz
Palabras clave:
Restoration, Conservation, Architecture, Fountain, Limestone, Daganzo, Madrid
Resumen
The paper's field focuses on the Restoration of the Four Sewers Fountain of Daganzo and the improvement of its immediate environment, linked to the Plan of Fountains and Historical Gardens of the Regional Government of Madrid.
Historically, this element has been a reference at a territorial level, being part of troughs net and cattle trails for livestock, besides urban scale, serving public utility and point of drinking water supplying for the village.
The intervention has had a dual purpose. On the one hand, monument's enhancement, recovering the original presence of the Fountain, altered after paving works of the square in 1985, which left it half-buried. On the other hand, recuperating the memory of the laundry, demolished on the same date, making it the main character of a new public space created around the pylon, which recovers its social role as meeting place for neighbors.
This process has benefited from a deep archival previous research; documentation, conservation and display of archaeological remains discovered; and a thorough restoration work to return its values to this Cultural Heritage Property.
Descargas
La descarga de datos todavía no está disponible.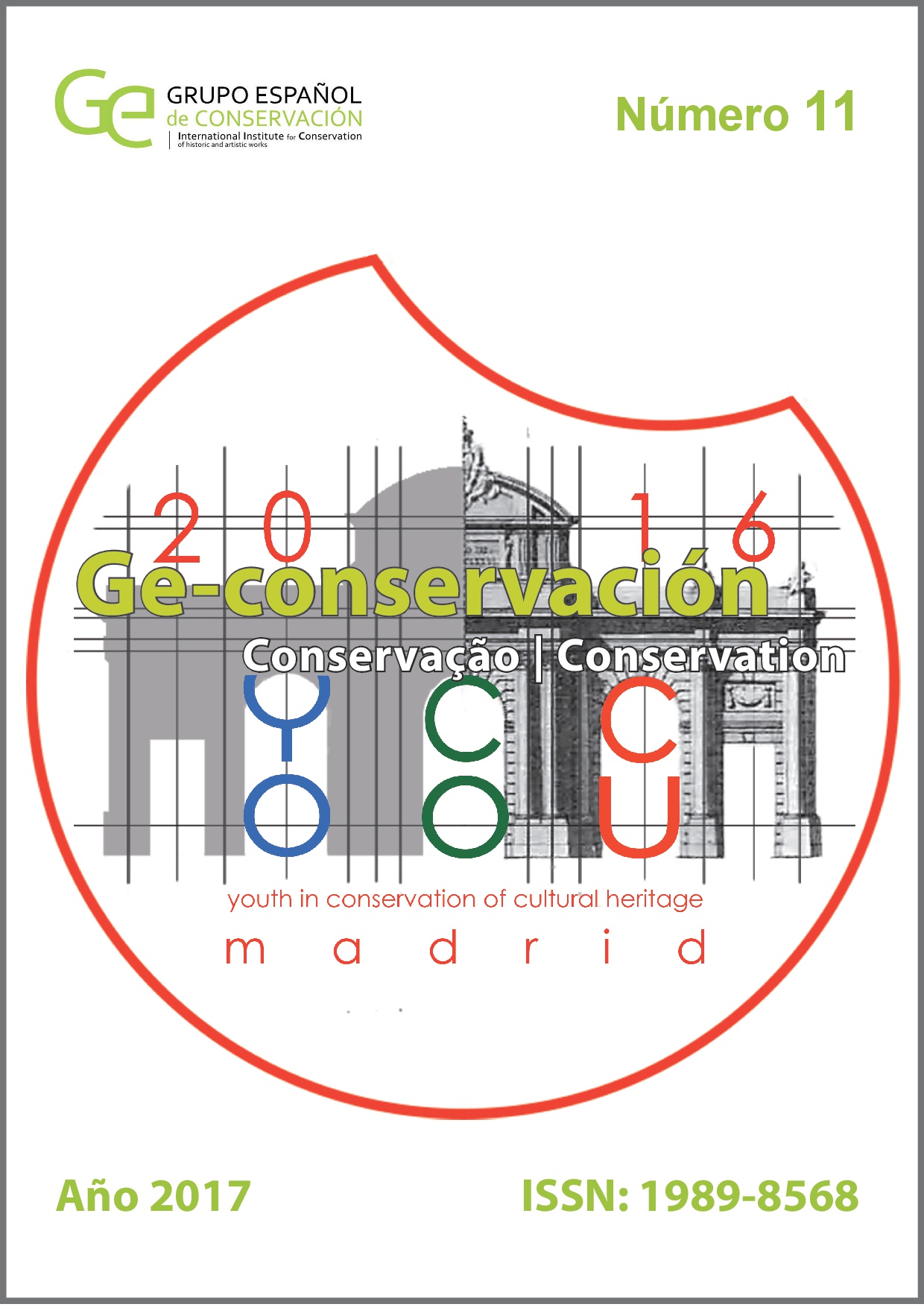 Cómo citar
García Alcocer, V., Juste Ballesta, J., & Soria Hernanz, E. (2017). Conservation and restoration works of the Four Sewers Fountain in Daganzo (Madrid, Spain). Ge-Conservacion, 11, 172-179. https://doi.org/10.37558/gec.v11i0.470
Los autores conservan los derechos de autor y propiedad intelectual, y garantizan a la revista Ge-Conservación y al GEIIC el Copyright© de los derechos de edición y publicación por cualquier medio y soporte. Las obras de dichos autores además se pueden publicar bajo una Creative Commons Attribution License que autoriza ser distribuido gratuitamente, copiado y exhibido por terceros si se muestra en los créditos la autoría y procedencia original en esta revista, y no se puede obtener ningún beneficio comercial por parte de terceros, ni tampoco se pueden realizar obras derivadas.
Los artículos podrán ser utilizados para fines científicos y formativos, pero nunca con fines comerciales, expresamente sancionado por la Ley.
La información contenida en los artículos es responsabilidad exclusiva de los autores.
La revista Ge-Conservación y los autores pueden establecer por separado acuerdos adicionales para la distribución no exclusiva de la versión de la obra publicada en la revista (por ejemplo, situarlo en un repositorio institucional o publicarlo en un libro), con un reconocimiento de su publicación inicial en esta revista.
Se permite y se anima a los autores a difundir sus trabajos electrónicamente (por ejemplo, en repositorios institucionales o en su propio sitio web) después de su publicación en la revista Ge-Conservación, ya que puede dar lugar a intercambios productivos, así como a una citación más temprana y mayor de los trabajos publicados por el autor.
Los datos personales suministrados por los autores únicamente serán utilizados para los fines de la revista y no serán proporcionados a terceros.