An overview of nanolime as a consolidation method for calcareous substrates
Jorge Otero

A. Elena Charola

Carol Grissom

Vincenzo Starinieri
Palabras clave:
Nanolime, Calcium hydroxide, Consolidation, Limewater, Conservation, Nanoparticles, Synthesis, Calcareous substrates
Resumen
Ca(OH)2 particles with submicrometric dimensions (nanolimes) represent one of the most promising consolidants for the conservation of calcareous substrates. The nanolime treatment is similar to the limewater technique, traditionally used for its durability and high compatibility with the calcareous matrix but requiring a large number of applications and not always yielding a highly effective consolidation. Since 2001, alcohol-based dispersions of Ca(OH)2 nanoparticles have been synthesised to overcome the limitations of the limewater treatment. Nanolimes present the same high compatibility and durability of the traditional technique but superior properties in terms of higher consolidation, penetration and reactivity, and fewer side effects. Since their discovery, nanolimes have been investigated by several research groups with the aim of refining their synthesis process, properties and applications. This paper presents an overview of the most relevant literature about nanolime as a consolidant for calcareous substrates.
Descargas
La descarga de datos todavía no está disponible.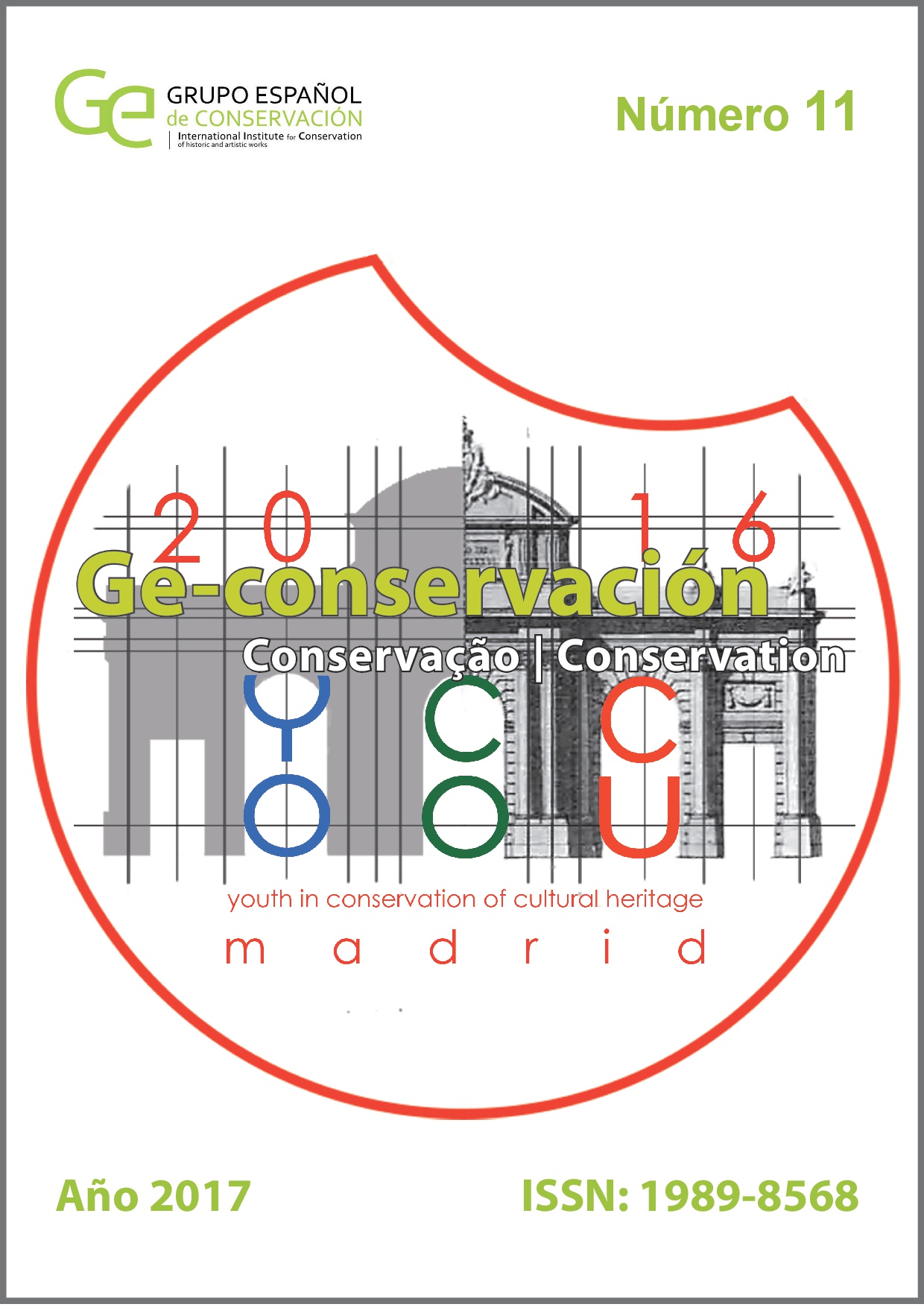 Cómo citar
Otero, J., Charola, A. E., Grissom, C., & Starinieri, V. (2017). An overview of nanolime as a consolidation method for calcareous substrates. Ge-Conservacion, 11, 71-78. https://doi.org/10.37558/gec.v11i0.455
Los autores conservan los derechos de autor y propiedad intelectual, y garantizan a la revista Ge-Conservación y al GEIIC el Copyright© de los derechos de edición y publicación por cualquier medio y soporte. Las obras de dichos autores además se pueden publicar bajo una Creative Commons Attribution License que autoriza ser distribuido gratuitamente, copiado y exhibido por terceros si se muestra en los créditos la autoría y procedencia original en esta revista, y no se puede obtener ningún beneficio comercial por parte de terceros, ni tampoco se pueden realizar obras derivadas.
Los artículos podrán ser utilizados para fines científicos y formativos, pero nunca con fines comerciales, expresamente sancionado por la Ley.
La información contenida en los artículos es responsabilidad exclusiva de los autores.
La revista Ge-Conservación y los autores pueden establecer por separado acuerdos adicionales para la distribución no exclusiva de la versión de la obra publicada en la revista (por ejemplo, situarlo en un repositorio institucional o publicarlo en un libro), con un reconocimiento de su publicación inicial en esta revista.
Se permite y se anima a los autores a difundir sus trabajos electrónicamente (por ejemplo, en repositorios institucionales o en su propio sitio web) después de su publicación en la revista Ge-Conservación, ya que puede dar lugar a intercambios productivos, así como a una citación más temprana y mayor de los trabajos publicados por el autor.
Los datos personales suministrados por los autores únicamente serán utilizados para los fines de la revista y no serán proporcionados a terceros.