Preliminary investigation of the preparation of repair mortars for the Temple of Diana, Mérida, Spain
Duygu Ergenç

Rafael Fort González
Palabras clave:
conservation, Roman mortar, microstructural, thermal analyses
Resumen
In this paper, characterization of the mortars of different constructive elements in Roman Temple of Diana for its conservation is presented. Mortar samples collected from different parts of the Temple were characterized by means of polarized optical microscopy (POM), X-ray diffraction (XRD), thermal analysis (TGA-DSC) and X-ray fluorescence (XRF).
The optical microscopy results revealed that the mortars are composed of lime binder and quartz, feldspar and biotite grains together with granitic and metamorphic rock fragments as aggregates. XRD analysis supports the microscopic observations and adds the information of the presence of actinolite in the aggregates. XRD analysis further indicates the same origin of the granitic and metamorphic rocks from the surroundings and reveals an absence of biotite in the flooring mortar and only a trace of quartz in the masonry mortar of cryptoporticus. According to results of TGA-DSC and XRF analyses, mortars were used in the channel in front of the Temple, the foundation of granite ashlar, and the inner wall of cryptoporticus has higher hydraulic character.
For the future conservation of the monument, the information provided here about the composition of original mortars will be useful.
Descargas
La descarga de datos todavía no está disponible.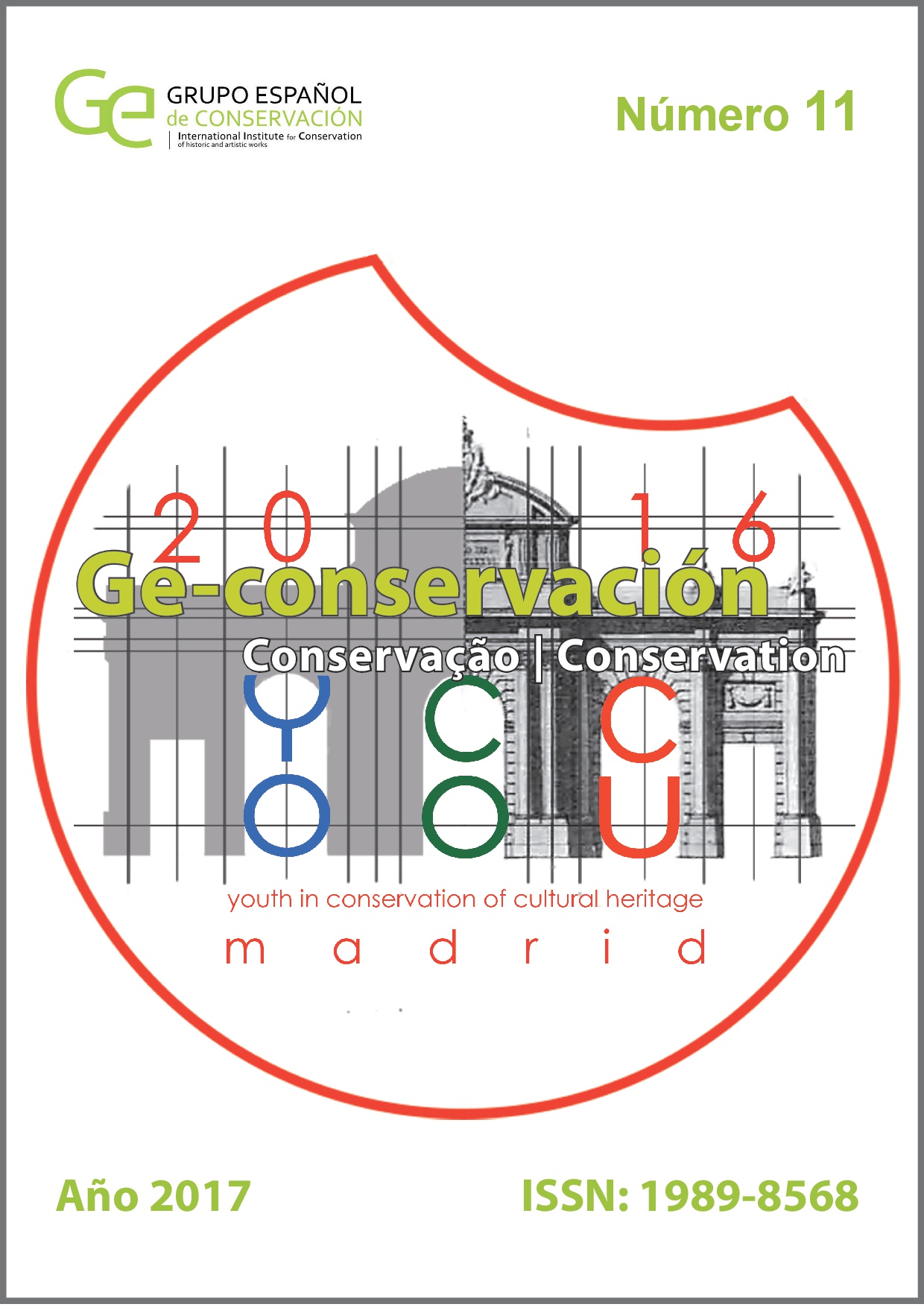 Cómo citar
Ergenç, D., & González, R. F. (2017). Preliminary investigation of the preparation of repair mortars for the Temple of Diana, Mérida, Spain. Ge-Conservacion, 11, 42-49. https://doi.org/10.37558/gec.v11i0.443
Los autores conservan los derechos de autor y propiedad intelectual, y garantizan a la revista Ge-Conservación y al GEIIC el Copyright© de los derechos de edición y publicación por cualquier medio y soporte. Las obras de dichos autores además se pueden publicar bajo una Creative Commons Attribution License que autoriza ser distribuido gratuitamente, copiado y exhibido por terceros si se muestra en los créditos la autoría y procedencia original en esta revista, y no se puede obtener ningún beneficio comercial por parte de terceros, ni tampoco se pueden realizar obras derivadas.
Los artículos podrán ser utilizados para fines científicos y formativos, pero nunca con fines comerciales, expresamente sancionado por la Ley.
La información contenida en los artículos es responsabilidad exclusiva de los autores.
La revista Ge-Conservación y los autores pueden establecer por separado acuerdos adicionales para la distribución no exclusiva de la versión de la obra publicada en la revista (por ejemplo, situarlo en un repositorio institucional o publicarlo en un libro), con un reconocimiento de su publicación inicial en esta revista.
Se permite y se anima a los autores a difundir sus trabajos electrónicamente (por ejemplo, en repositorios institucionales o en su propio sitio web) después de su publicación en la revista Ge-Conservación, ya que puede dar lugar a intercambios productivos, así como a una citación más temprana y mayor de los trabajos publicados por el autor.
Los datos personales suministrados por los autores únicamente serán utilizados para los fines de la revista y no serán proporcionados a terceros.