Stone provenance and conservation of the Trinitarias Descalzas of San Ildefonso convent, Madrid (Spain)
David Martín Freire-Lista

Rafael Fort González
Palabras clave:
provenance, procedencia, preventive conservation, conservación preventiva, building stone, piedra de construcción, microcracks, microfisuras
Resumen
The characterization of building stones used in monuments and the location of their historic quarries is key for maintenance and restoration works. The four most representative building stones of Madrid: flint, granite, Cretaceous dolostone and Miocene limestone, have been used in the Trinitarias Descalzas of San Ildefonso convent of this city. A plaque of Carrara marble was placed on the convent façade in honour of the Spanish writer Miguel de Cervantes in 1870.
The decay of the stones was determined by characterization techniques such as optical polarization and fluorescence microscopy and spectrophotometry. This technique gave information about the colour change between the plinth granite of the convent and quarry granite where it was extracted. The historical documentation complements these data.
Descargas
La descarga de datos todavía no está disponible.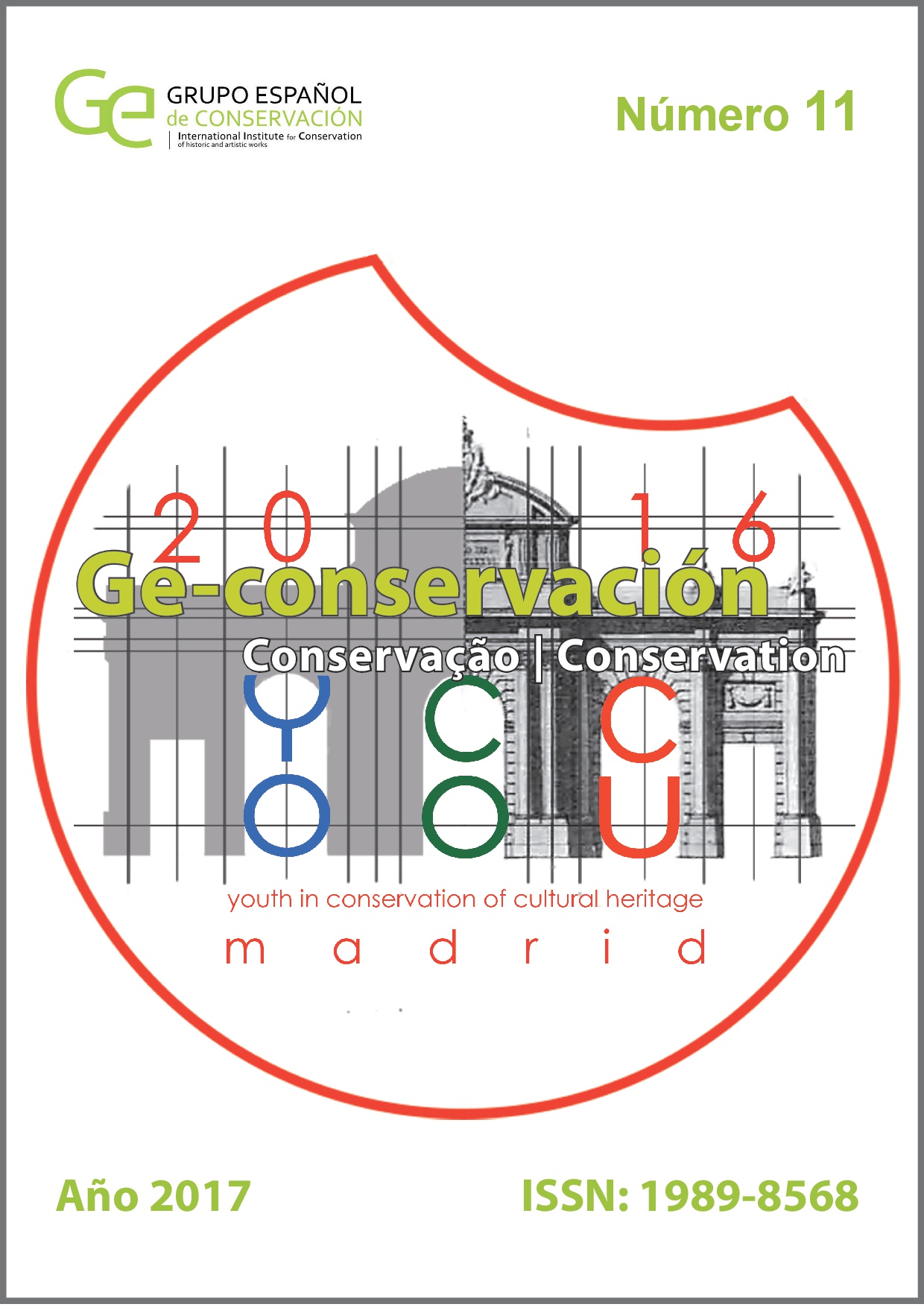 Cómo citar
Freire-Lista, D. M., & Fort González, R. (2017). Stone provenance and conservation of the Trinitarias Descalzas of San Ildefonso convent, Madrid (Spain). Ge-Conservacion, 11, 25-33. https://doi.org/10.37558/gec.v11i0.438
Los autores conservan los derechos de autor y propiedad intelectual, y garantizan a la revista Ge-Conservación y al GEIIC el Copyright© de los derechos de edición y publicación por cualquier medio y soporte. Las obras de dichos autores además se pueden publicar bajo una Creative Commons Attribution License que autoriza ser distribuido gratuitamente, copiado y exhibido por terceros si se muestra en los créditos la autoría y procedencia original en esta revista, y no se puede obtener ningún beneficio comercial por parte de terceros, ni tampoco se pueden realizar obras derivadas.
Los artículos podrán ser utilizados para fines científicos y formativos, pero nunca con fines comerciales, expresamente sancionado por la Ley.
La información contenida en los artículos es responsabilidad exclusiva de los autores.
La revista Ge-Conservación y los autores pueden establecer por separado acuerdos adicionales para la distribución no exclusiva de la versión de la obra publicada en la revista (por ejemplo, situarlo en un repositorio institucional o publicarlo en un libro), con un reconocimiento de su publicación inicial en esta revista.
Se permite y se anima a los autores a difundir sus trabajos electrónicamente (por ejemplo, en repositorios institucionales o en su propio sitio web) después de su publicación en la revista Ge-Conservación, ya que puede dar lugar a intercambios productivos, así como a una citación más temprana y mayor de los trabajos publicados por el autor.
Los datos personales suministrados por los autores únicamente serán utilizados para los fines de la revista y no serán proporcionados a terceros.